Paris Air Show 2015: Turkish ATAK Helicopter For Poland
During the 2015 Paris Air Show the Turkish Aerospace Industries company presented the T-129 ATAK assault helicopter which is offered as a Turkish export product – also for Poland, within the scope of the Kruk programme. Representatives of the company assure that the offer for the Polish Armed Forces shall also include enhancement of cooperation with the Polish defence industry.
T-129 helicopter was presented during the Paris Air Show expo in its target B variant which is tailored to carry a variety of guided weapons, including the Mizrak-U ATGW, laser-guided 70 mm Cirit rockets, as well as the Stinger air-to-air missiles. The first T129 helicopters were delivered to the Turkish Armed Forces in their simplified A variant.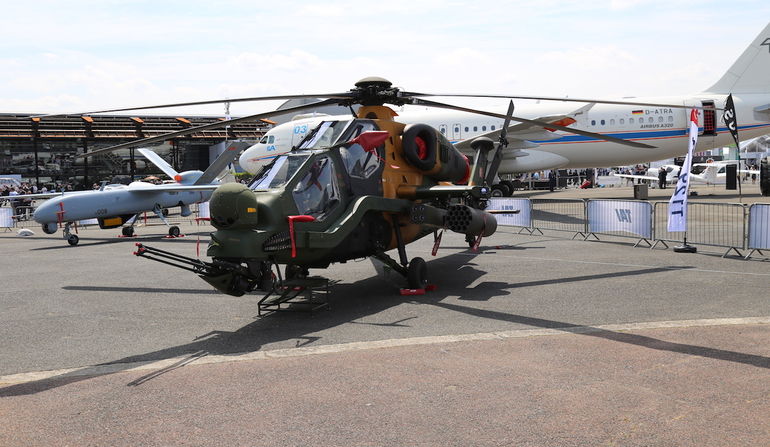 TAI assures that, depending on the customer's requirements, the helicopter may be tailored to utilize armament delivered by the third parties, such as the Hellfire or Spike anti-tank missiles. The helicopter would additionally be fitted with a locally-made optoelectronic observation system which would feature, inter alia, cameras operable in visible light and infra-red spectrum, along with a laser range-finder.
The TAI representatives stress the fact that they are willing to expand the scope of cooperation with the Polish arms industry, in connection with the T-129 offer submitted in the "Kruk" (Raven) programme, carried out by the Polish MoD's Armament Inspectorate. The aim of the programme is to procure new assault helicopters which are to replace the Mi-24 Hind helicopters that are currently in service. Back in May the TAI company signed agreements with the Mesko company and with the Central Military Design-Technology Bureau. During the Paris Air Show it was also confirmed that T129 would be presented both during the Radom Air Show, as well as during the MSPO Kielce 2015 expo.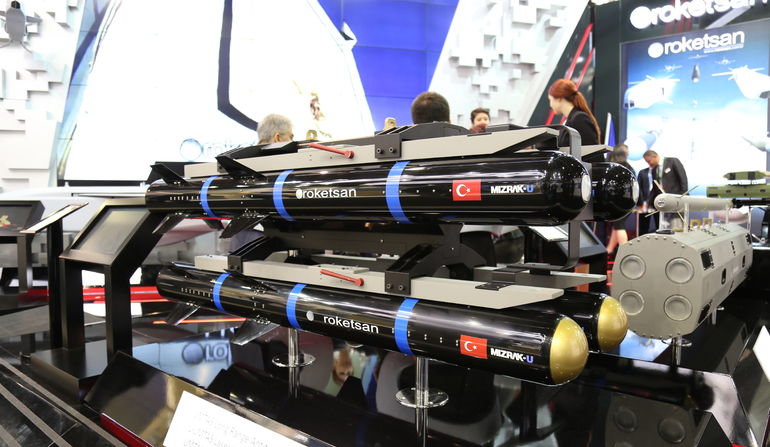 During the Paris Air Show event, the Turkish defence industry also presented the Turkey-made Mizrak-U anti tank guided missiles which are to be utilized by the T-129B rotor-craft. Currently works are carried out, the aim of which is to integrate the new missiles with the SH-60B Sea Hawk helicopters.
According to the statements made by the manufacturer, the Mizrak-U missile is capable of striking targets at distances from 500 up to 8000 m, also in case of the targets that utilize explosive reactive armour. The missiles may, depending on their variant, be guided with the use of a laser-guidance system or with the use a passive system – using a thermal vision imaging device (with an ability to transfer the data from and to the missile, in-flight) Missile diameter is 160 mm, its length – 1800 mm, and it weighs 37.5 kg.