US A-10 Warthogs Conduct Austere Airfield Training in Poland
A-10 assault aircraft took part in a training exercise, the aim of which was to conduct operations from an unprepared runway. The training took part in Poland, in Nowe Miasto nad Pilicą. Part of the purpose of the training was to prepare the pilots to operate from the enemy territory.
According to the official press release issued by the United States Air Force, the training involved jets from the 354th Expeditionary Fighter Squadron. Currently, the US A-10 Thunderbolts II are stationed at the Polish 32nd Airbase located in Łask, and they are operating within the framework of so called Theater Security Package. The above means that they are temporarily deployed in Europe, in order to bolster the US presence in the region. The aircraft present in Poland are usually stationed in the United States on a permanent basis.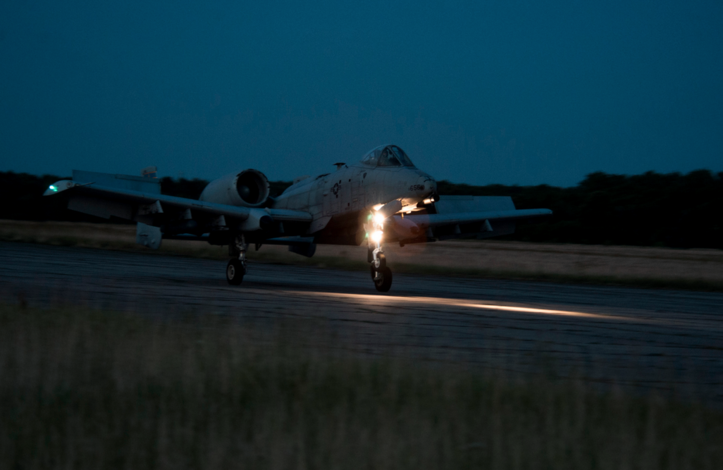 The training conducted in the Nowe Miasto area was executed together with Combat Controllers (CCT) coming from the 321st Special Tactics Squadron. The exercise took place within an old airfield which is no longer used to conduct take-offs and landings. Trainings were executed both at night, as well as during the day.
Commander of the 354th Squadron, Lt. Col. Ryan Hayde stated that execution of this type of exercise expands the capabilities, within the scope of deploying the A-10 jets in the area of operations. Hayde noted that should a threat arise, properly trained pilots supported by CCT units could be operating even from locations placed far behind the enemy lines.
The training operation performed in Poland made it possible for the units of the squadron to significantly increase the number of pilots qualified to take part in similar operations. Currently the A-10 assault jets are not permanently stationed in Europe. The Theater Security Package unit was also involved in the Dragoon Ride operation which involved the 2nd Cavalry Regiment. The objective of the above operation was to transfer the forces from the Mid-Eastern Europe back to the German bases, via a road march.