First Rosomak WRT Vehicle Received by the Land Forces
According to the information released by the 17th "Wielkopolska" Mechanized Brigade, the Polish Army has received the first "Engineering Reconnaissance Vehicle" [WRT] based on the Rosomak platform. More of such vehicles are expected to be received by the unit later this week.
Rosomak-WRT (literally: Technical Reconnaissance Vehicle; ARV variant) has already been ordered by the Polish Ministry of Defence, in a number of 34 examples. This platform is the first ever vehicle within the inventory of the Polish Army, fitted with the remote controlled armament module: ZSMU-1276A. The turret comes with the 7.62 mm UKM-2000C machine gun installed, and it has been delivered by the ZM Tarnów facility. The value of the contract, concerning the WRT vehicle, is defined as PLN 233.56 million. The vehicle was being showcased during the MSPO 2016 show in Kielce.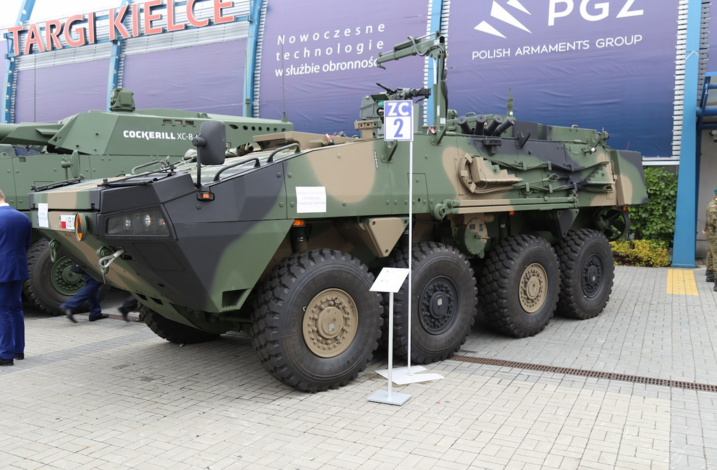 The WRT vehicle has been fitted with a crane capable of lifting loads of up to one tonne, pneumatic lift, tools and spare parts package, as well as diagnostic and maintenance kit for the Rosomak APC. Moreover, the equipment kit remaining at disposal of the specialized Rosomak also includes power generators (embedded and portable one), and high power lighting kit with tripods and a large tent, making it possible to carry out relevant work in harsh weather conditions.
The task given to such vehicles, manufactured by the Rosomak S.A company which is a part of the PGZ, is to provide basic assistance to the damaged platforms, through execution of the basic repairs, including replacement of tyres, welding of the damaged components of the chassis or diagnostics, related to the onboard electronics. During the MSPO two reconnaissance variants of the Rosomak vehicle have also been showcased.