From Pistols to Precision-Guided Artillery Rounds. Works 11 at MSPO.
Polish, Katowice-based Works 11 company showcased its offer during the MSPO 2019 event in Kielce. The company's booth featured individual and squad firearms, artillery, weapons designed to be mounted on aircraft or surface combatants, as well as ammunition in different calibres and a variety of accessories or systems that can be useful in supporting the military training.
Soldier
REX Zero1 pistol presented in Kielce has been equipped with a monoblock barrel and locked breech. It is a conventional pistol with external cocking mechanism and a safety switch as well as automatic firing pin locking mechanism. The magazine release and safety switch are ambidextrous. Meanwhile, slide stop located on the left side can also be used as a cocking mechanism release allowing for safe dropping of the cocking mechanism. The grip has been made out of aluminium and it houses a magazine that can hold up to 20 rounds. 
The pistol comes in three variants: S (length of 190 mm and height of 140 mm), T (205 and 150 mm correspondingly) and CP (180 and 130 mm). The barrel length for the individual models is 108, 125 125 and 98 mm, and the gun, together with the magazine, weighs, correspondingly, 923, 951 and 858 grams. The double-stack Standard (S) magazines house 17, 18 or 20 rounds. Tactical (T) variant uses 20-round magazines, while Compact (CP) pistol uses magazines housing 15 or 18 rounds.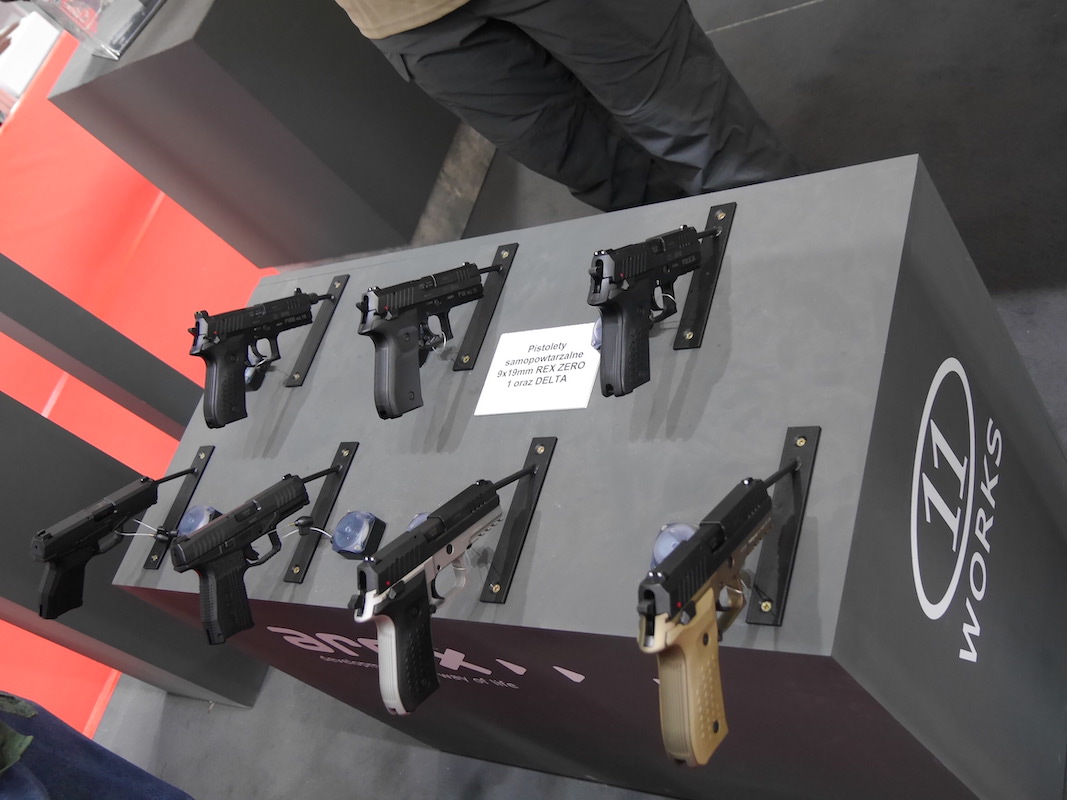 Rex Delta is a new design that has been made lighter thanks to the use of composite materials, it also utilizes a trigger-safety mechanism. This variant has length of 180 mm, height of 128 mm, the barrel is 102 mm long and it weighs 628 grams.
L3 BNVD-1531 night vision goggles constitute one of the latest solutions fusing the advantages of the AN/PVS-15 and AN/PVS-31 binocular designs. Separate focusing mechanism is available for both oculars and intensification may be adjusted manually. Ocular position is individually adjustable. The goggles also feature an integrated IR illuminating unit for active operation. The goggles feature 3rd-gen. MX-11769 image intensifiers utilizing green phosphorus (P43) or white phosphorus (P45) technologies. Furthermore, the system also offers the auto-gating function, controlling the power supply. Product dimensions are defined as 117×114×91 mm, it weighs 560 grams, battery and oculars included. The field of view it offers is 400 ± 20 while the focusing range is defined as 250 mm ± 30 mm (to infinity). Scope of oculars adjustment available is between -2.0 and + 6.0.
Meanwhile, CPNVG panoramic system provides the user with a wide field of view (970 (± 20) horizontally x 400 (± 20) vertically). The image intensifiers with green phosphorus used in this design broaden the field of view and enhance situational awareness. The goggles use four 18 mm MX-10160 intensifiers. The individual monoculars can be dismantled and used separately. Their dimensions are 231x117x104 mm, and they weigh around 800 grams, accessories excluded. Replaceable filters are used for diopter adjustment in the range between +0.5 to -2.5.
Works11 is also offering the AN/PVS-24/24A night vision sight, the aforesaid AN/PVS-15 and AN/PVS-31 goggles, AN/AVS-9 NVG system, WTM-PI and MTM-P thermal imaging minioculars or light AN/PAS-13G(V)1/LWTS-LR thermal imaging sight. The offer also includes AN/PEQ-15/16B sighting system, LA-5/5A PEW and NGAL laser sights, STORM-SLX portable tactical rangefinder or EXPS3 holographic sight.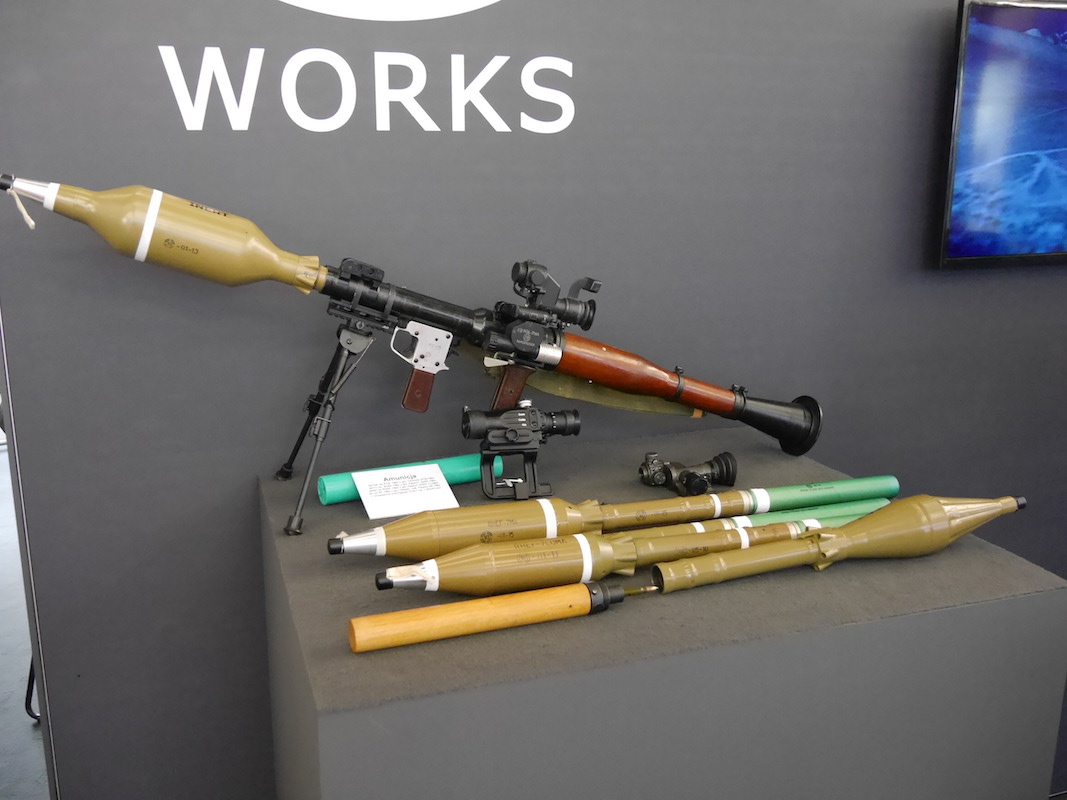 Works11 is also offering anti-tank grenade launchers: Arsenal ATGL-L/L1/L2/L3/L4 and ATGL-L5. These systems have been derived from the RPG-7.  ATGL-L2 and L5 systems in particular use a broad range of projectiles, ranging from PG-7V/VM/VR to RHEAT-7MA/MA1 or RHEF-7MA/LDMA.
Aviation
Arnold Defence represented by Works 11 on the Polish market is a well known manufacturer of the aviation 70 mm unguided missile launchers. More than 1.2 million systems as such have already been delivered to the US Forces and export customers. The offer includes the well known M260 launcher for 7 rockets or M261 system housing 19 rockets, and 7-rocket LAU-68F/A system in a thermal coating. The company also delivers LAU-61G/A systems operated by the USMC or LAU-131/A or SU-25F/A solutions operated by USAF.
However, the ultralight LWL-XII-A solution is especially popular here. Without the rockets it weighs only 28.6 kilograms. The launcher in question accommodates as many as 12 rockets. It is 1679 mm long and it has a diameter of 401 mm. Arnold Defence also declares that the dimensions, weight and shape of this launcher can be tailored to any type of air, land or naval platform.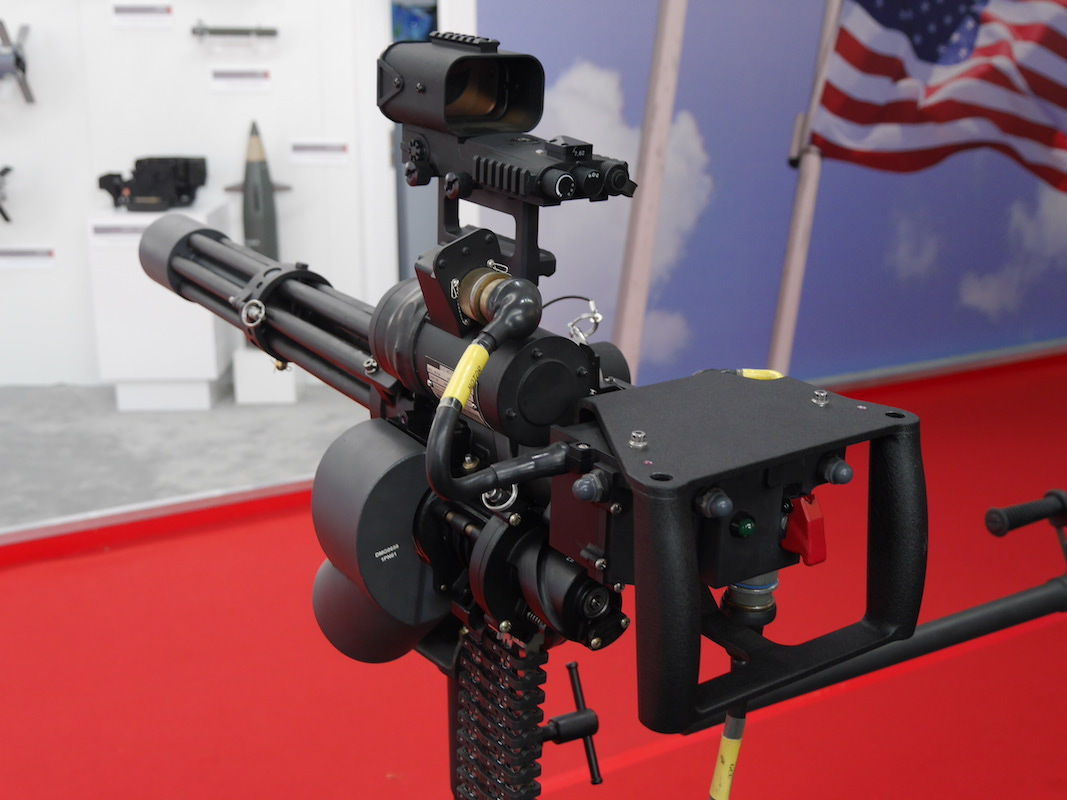 7.62 mm Dillon Aero M134D minigun is an electrically-powered Gatling's machine gun with constant theoretical rate of fire of 3000 or 4000 rpm. Its high accuracy stems from lack of recoil, if the mount is stable and high rate of fire, with many rounds hitting the target concomitantly. The ammunition (7.62×51 mm NATO round) comes in a form of M13 belt placed in magazines housing up to 4000 rounds.
The gun itself has a modular design, it can be easily adopted for being set up on a myriad of platforms. Mean period between jamming is defined as 30 thousand shots. The barrels can withstand 100.000 shots while the chamber is rated for 1.5 million shots. M134D steel variant, M134D-H mixed system and M134D-T titanium versions are available.
Pratt MR550 is one of the gunner stations offered, designed for use on offroad vehicles. Other gunner stations are also available, dedicated for EC725/H225M, AS332 and AS532 helicopters. The latter solution in mounted in sockets of the floor, without any mechanical altering of the airframe design. 
Another novelty is a M134 gun pod, weighing 73.5 kg. It may be integrated on light aircraft, be it fixed- or rotary-winged ones, Mi-8/17 and Mi-24 included.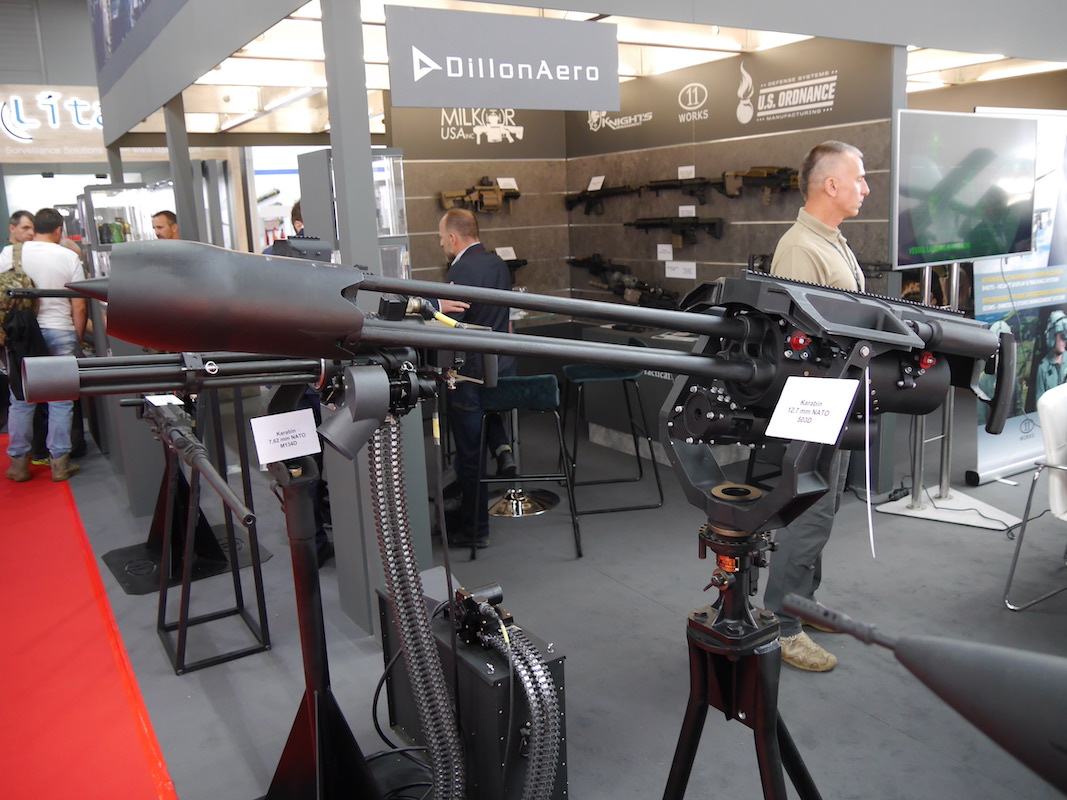 The company is also promoting the triple barrel Dillon Aero 503D .50-cal. machine gun. The system is still in its infancy, but the main assumption is that it would be lighter and far more universal, thanks to its modular design, especially when compared to the currently used .50 caliber solutions used in air platform applications. The gun has a rate of fire of 1500 rounds per minute. It may be altered with respect to the design and tactical requirements of the carrier platform. Currently the weapon in question weighs 38 kilograms.
Fighting Vehicles (and beyond)
Works 11 has also been showcasing the P20 light weapons system (167 kilograms) designed for vehicular use (for instance as a part of the ARX 20 remote gun stations) or for small special purpose vessels (NARWHAL gun station). The 20M621 low-recoil cannon, firing the 20x102 mm NATO round (M50 or PGU), has a rate of fire of 750 rounds per minute (low rate of fire setting of up to 300 rounds per minute) and effective range of 2000 metres.
The proposed rounds include AP-T (1005 m/s muzzle velocity, 22 mm RHA penetration at 30 degrees at 800 meters), TP-T and T training rounds and HEI round (975 m/s muzzle velocity, effective range of 2000 meters).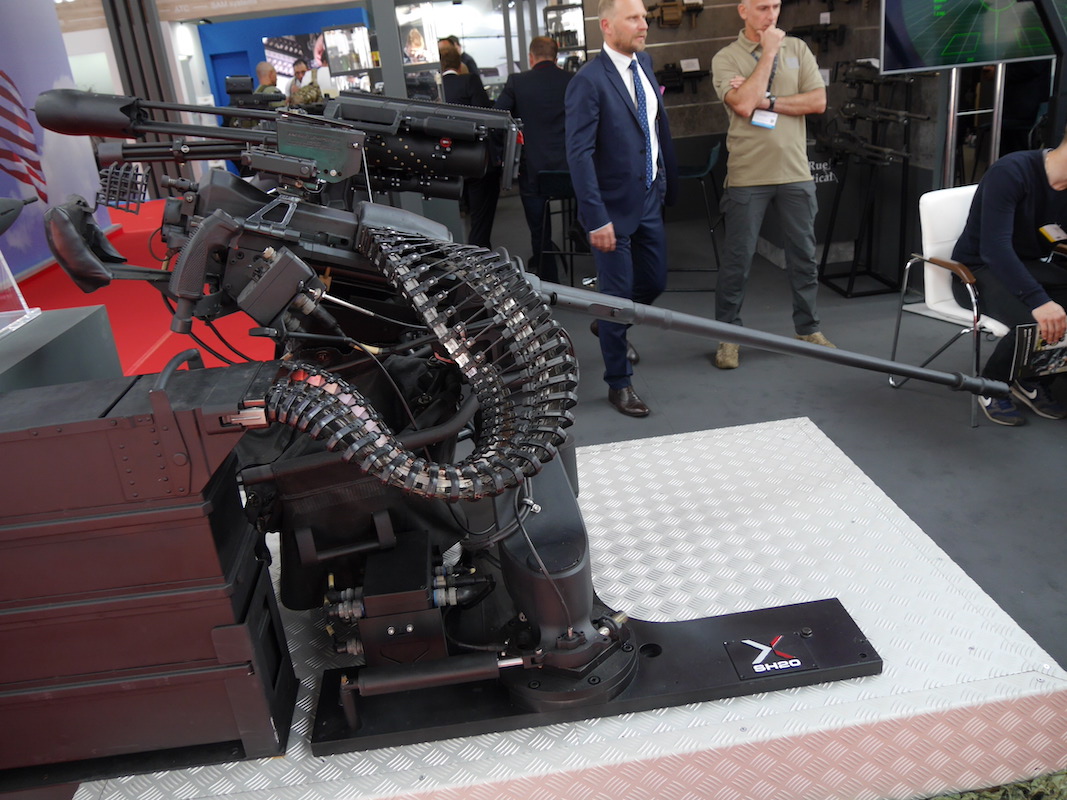 The maximum recoil for the M621 cannon is defined as 4500 N, with 3500 N for single shots. In case of automatic fire the recoil equals around 2500 N - which is a value equivalent to the .50-cal. M2HB machine gun. The P20 system for vehicular use consists of a base, cannon, electrical connections, daytime sight, cradle gun mount, control panel and, optionally, it may also feature a sniper scope,, laser target designator and ballistic plates protection. 
The cannon may also be mounted on a SH 20 door mount the design of which ensures free access to loading/unloading of the helicopter. It also expands the ability to neutralize a broader variety of threats. The station has been integrated on Cougar and EC725 Caracal helicopter platforms. Another option is the THL 20 turret installed on the Romanian IAR 330 Puma and Indian ALH and LCH helicopters. Depending on the variant the turret may use from 300 to 700 rounds of ammo.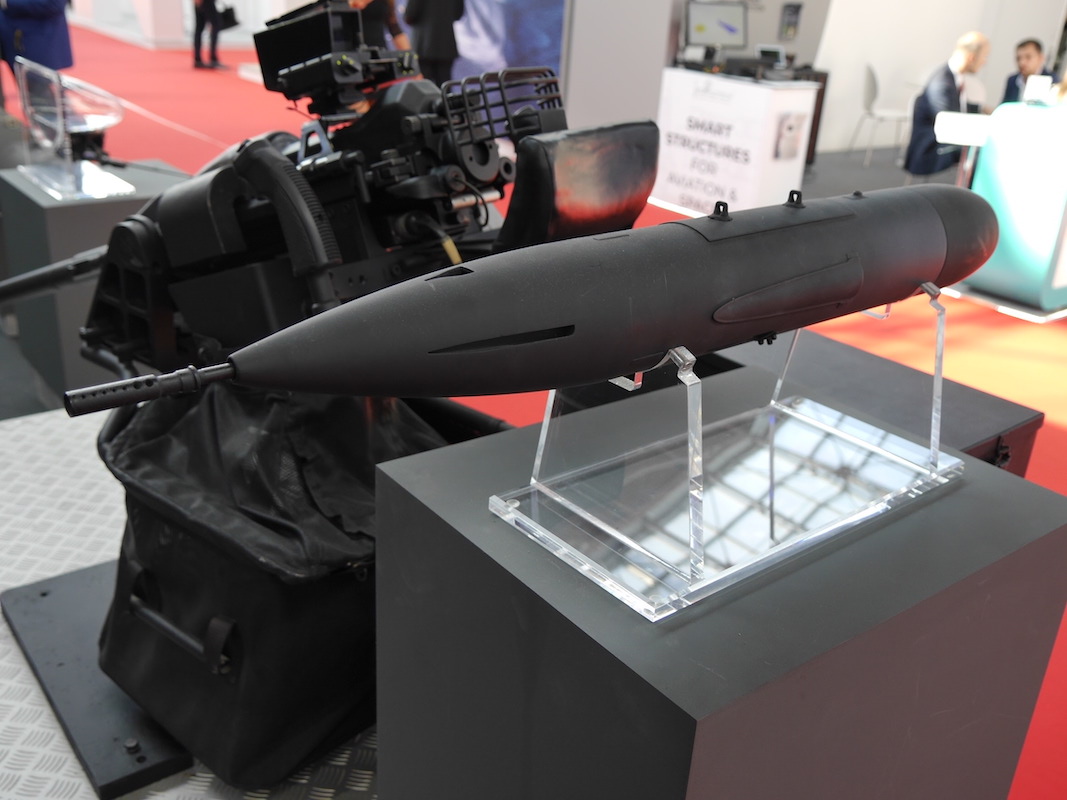 Furthermore, third variant also exists. It comes in a form of a NC 621 gun pod housing 180 rounds of ammunition. It has already been approved or is being tested on several helicopters or light support fixed-wing aircraft, including UH-60, PC-7/9, Bell JetRanger and so on. 

Artillery
Works 11 was also presenting several artillery systems at MSPO 2019. These included the LG1 Mk 3 new generation howitzer, developed by Nexter. The howitzer weighs only 1550 kilograms which makes it possible to tow it with the use of light 4x4 vehicles. The gun can also be transported as an underslung load by medium multi-role helicopters as well.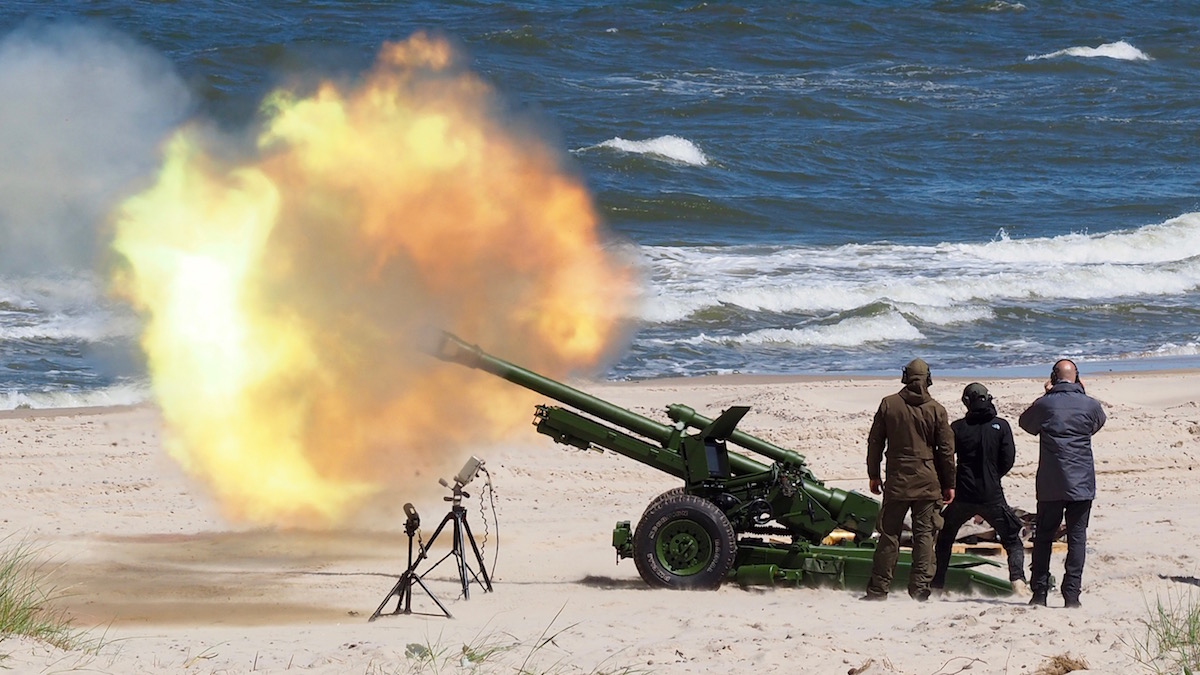 Meanwhile, heavier helicopters can also transport extra ammunition or equipment set that may be required by the howitzer crew. C-130 Hercules is able to carry up to four howitzers as such. The howitzer can also be air-dropped on a modular platform from medium (below 300 meters), low (125 meters) and very low (below 5 meters) altitude. 
105 LG1, when in combat setting and at maximum elevation, is 4370 mm high and 6720 mm long. When the barrel is set for direct fire, the height of the cannon up to the barrel axis is up to 900 mm (total of 1000 mm). The gun carriage and its tail have been designed with high stability in mind. 105 LG1 has been fitted with a semi-automatic breech.
It is operated by a crew of 5, crew of 3 can be used in special circumstances. A well trained crew should be able to be ready to change the firing position in less than 30 seconds. The very same amount of time is usually needed to fire the first 6 rounds. 12 rounds per minute is the practical rate of fire. Another advantage of the system is the wide range of aiming angles (elevation: -30 to +700, azimuth - 360 - (180 left and right), and tilt up to 100 in any direction).
Average accuracy is defined as 0.15% of the firing range when it comes to direction and 0.35% of the firing range in case of the range itself. Maximum range is defined as 17.000 metres for Nexter rounds and more than 11.000 metres for the M1 family rounds. 2.000 meters is the effective range of direct fire. Change of the direction in which the gun fires the round, related to changing the position of the cannon in 360 degrees range, takes only a few seconds. 
Nexter is also developing SPACIDO aiming solution for the artillery rounds, as ordered by the French military. The assumption is to analyze the actual trajectory of the round over the first 5.000 meters. Then it is adjusted to match the theoretical profile. This data is then used to compute the point of impact. Then, proper trajectory altering data is sent to the round. The French have already developed a system as such for the 155 mm rounds. 105 mm solution is currently in the making. 
Another system offered by Nexter in the artillery department is the MV radar that transmits relevant data to the gun's ballistic computer. Bacara portable (weighing 3 kilograms) computer makes it easier to lay down effective fire at the battery level. The system is placed in a rugged housing. The manufacturer suggests that the design can withstand more than 20 years of service and its endurance, without failure, is defined as 1500 shots. Meanwhile, the barrel offers EFC life of up to 7000 shots. 
The ultra-light 60 mm LRM (Lehky Rucni Minomet) vz. 99 Antos mortar (actually featuring a 60.7 mm barrel, compliant with the NATO standard calibre), developed by the Military Technical Institute of Armament and Ammunition in Slavičín, has been designed as a support weapon for the air-mobile and special operations forces elements. A major portion of the Antos mortar has been made out of aluminum and titanium alloys and plastics, including major quantities of polyurethane material which exhibits good shock-absorbing properties. The aluminum smoothbore 650 mm barrel is externally covered by a plastic housing.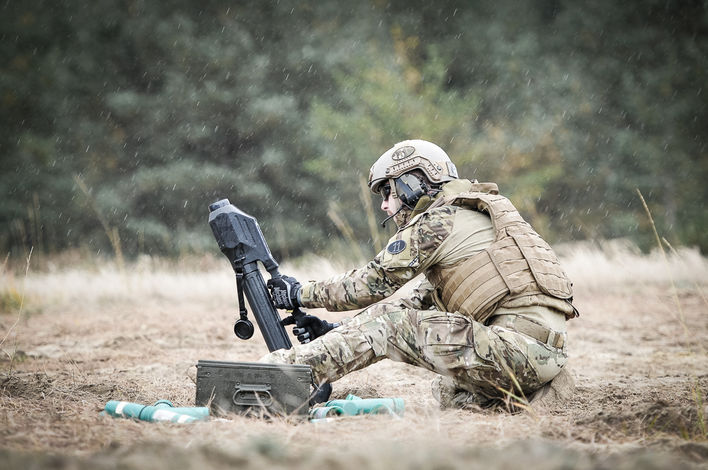 The square 180×180 mm base plate, with a design which dissipates the energy and shock created when the weapon is fired, as the surface contact area is expanded, is made out of high impact Reaction Injection Moulded plastic.  The safety mechanism is located in the rear portion of the mortar. It is coupled with the fire selector switch of the trigger.
Antos is utilizing a liquid sight, in case of which the level of liquid facilitates aiming - the scale is provided in metres, indicating the expected range. The scale itself is of a dual range profile which facilitates rapid use of two different charges with the rounds. The mortar's length is 905 mm. It weighs, in a combat setting, 5.3 kilograms (with liquid sight) or 4.9 kilograms (S-Antos system with iron sight). It may be fired at ranges from 80 to 1200 metres. 
ANTOS LR variant features a bipod and it weighs 15.6 kilograms. With barrel that is 1000 mm long the mortar is capable of hitting targets at distances from 120 to 2900 meters. The LR system may fire rounds that utilize extra (0, 1, 2 and 3) charges. 
The offer, besides the mortar itself, also includes a wide selection of rounds. The range of available ammunition includes rounds as follows:
HEF fragmentation rounds, with TNT explosive fill;
HEI airburst rounds, with HTX explosive fill (71 kPa pressure created within a radius of 3 metres);
SMK smoke rounds (120 g of red-phosphorus-based smoke agent);
ILL (visible light spectrum) and ILL-IR (infra red spectrum) illumination rounds;
PRS inert rounds;
PRACT practice rounds;
RIOT CONT tear gas rounds;
SIG signal smoke rounds;
JUMP training rounds. 
HEF and HEI rounds weigh 1,42 kilograms and allow the user to shoot the mortar at distances between 80 and 1230 metres. In case of the ILL and ILL-IR ammunition, the weight is 1.2 kilograms, while the rounds may be fired up to 600 metres high into the air. For the ILL round the duration of light emission is 20 seconds, with the flare offering luminosity of 250,000 candelas. For the ILL-IR round the intensity of emitted radiation is defined at the level of 52W/sr within a bandwidth between 800 and 900 nm. AF66 fuse safety device for the fragmentation bombs allows for safe air-drop of the said ammunition. 
New HEI-LD round has also been developed for ANTOS LR. Its purpose is to act against light armour and infantry. Its design fuses fragmentation, blast and incendiary effects. The round may be fired with charges 0-4 and its range is from 125 to up to 3578 meters. AF66 point fuse or AR-MHD/DM 11A5 fuses may be used as well.
PGMs and Loitering Munitions 
Works 11 has also been showcasing its offer within the scope of PGMs, loitering munitions and guided artillery rounds. Uvision Air Ltd. Hero 30 loitering munitions have been designed to carry out reconnaissance for land elements or special forces. There is also an option of tailoring this system for naval use. It may be air-launched as well. Hero 30 airframe features foldable wings forming a cross configuration.
The UAV is 780 mm long and its wingspan is 800 mm. The system as a whole weighs 3 kilograms and is transported in light launcher pod, weighing 5 kilograms in total. LOS makes it possible to maintain a datalink at a distance of 5 to 40 kilometers. The system may remain in the air for 30 minutes with a 500 gram warhead.
Hero 30 comes with a simulator using a 3D terrain model with photo-textures. The system may be used to simulate the whole mission in a myriad of tactical conditions. It could simulate enemy forces, weather or atypical combat environment. The whole system features one instructors station and several consoles for the soldiers involved in training.
Hero-120, the latest UAV offered by Uvision Air, has been designed with employment on a myriad of land, naval and air platforms in mind. This is made possible thanks to special rails, launching systems or multiple use launch containers.
The drone already features a modular warhead section weighing from 1.5 to 4.5 kilograms, depending on the needs. It may thus carry different charges as well. The new model also has a changed aerodynamic layout.
Hero-120 can attack targets omnidirectionally and offers flight endurance of up to 60 minutes. It is propelled with an electric motor that ensures a wide speeds range and also has a range of up to 60-80 kilometers. The system, weighing 12.5 kilograms, has been fitted with a bidirectional LOS datalink, GPS/INS system and EO/IR guidance unit. The engagement may be interrupted at any moment. CEP for this system is less than 1 meter. UVision Air Ltd. also offers systems such as Hero-70, Hero-250 or strategic Hero-900 and Hero-1250 platforms. 
Works 11 has also been showcasing the 155 mm Bonus Mk II smart round developed by BAE Systems to enhance the capabilities to act against armour at greater distances, also ensuring high hit probability with the use of two warheads at a distance of up to 35 kilometers, if fired from a howitzer with an L52 barrel. The round weighs 44.6 kilograms, with warhead weighing 6.5 kilograms. Descent rate is defined as 45 meters per second with rotation rate of 15 revolutions per minute. It is able to scan around 64 thousand square meters.
155 mm Nexter Katana guided round can act against targets at distances ranging from 30 (Mk I) to 60 (Mk II A/B) kilometers, if fired from a 52-calibres long barrel. CEP is less than 10 meters then - thanks to a hybrid GPS/INS positioning system.