German Howitzers Delivered to Lithuania
PW-Sat2, ilustracja: Marcin Świetlik, http://pw-sat.pl/

Fot. Creotech Instruments S.A.

fot. Bundeswehr/Jörg Koch
Lithuania has just received two self-propelled Panzerhaubitze 2000 (PzH 2000) howitzers, purchased by the Lithuanian Army from the Bundeswehr.
Two PzH 2000 howitzers have been delivered to the port in Klaipėda on Thursday evening, from where, via land routes, they have been transported to the base located in Rukla. According to the release issued by the Lithuanian Ministry of Defence, the howitzers are expected to participate in the "Flaming Thunder" artillery exercise, scheduled to take place in August.
On the basis of the contract signed in September last year, the Armed Forces of Lithuania have acquired 16 self-propelled howitzers from the Bundeswehr, all of which are going to be used for combat purposes, along with 5 examples destined to be used for training and as a source of spares. The agreement also includes procurement of 26 M577 V2 command vehicles, 6 BPZ2 technical support platforms, along with a training package. The deliveries within the framework of the contract are expected to last by 2019.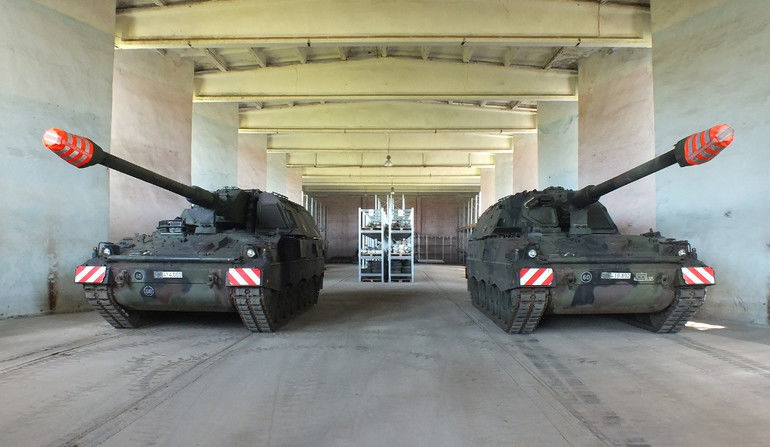 The delivery of the Panzerhaubitze 2000 howitzers for the Lithuanian Army means that Vilnius is acquiring artillery strike capabilities, at distances of up to 40 kilometres. Bundeswehr units that are involved in rotational exercises within the territory of Lithuania are using similar systems too. Up until now, the Iron Wolf brigade artillery battalion of the Lithuanian Army has been using a number of obsolete 105 mm howitzers, with a range of ca. 11 kilometres.