Industry Offer Presented to Polish Foreign Military Service Students
The officers getting ready to become a part of the Foreign Military Service took part in study visits at PIT-RADWAR, and PCO. The goal was to get acquainted with the products offered by the aforesaid defence companies. Thanks to the above, they would be able to promote the equipment in question on the foreign markets.
A joint study visit of officers - students of the Post-Graduate Foreign Military Service studies, and attendants of the Preparatory Course for the Foreign Military Service Cadre - took place on Monday, 15th February, at PCO and PIT-RADWAR.
PIT-RADWAR announced that the above is one of the series of events aimed at getting the Polish Defence Attaches acquainted with the PGZ Group's offer. For the officers who are to work at the position of Poland's Defence Attache, the acquisition of knowledge on the capacity of the Polish defence industry is viewed as an indispensable element of training.
The presentation given to the guests allowed them to get acquainted with the primary domains of PIT-RADWAR's business activities and product offer. Export matters were also mentioned, along with the specific nature of the innovative solutions that the company offers.
Among the systems showcased, POPRAD Self-Propelled SAM System and AG-35 AAA systems, as well as radar systems, could have been found.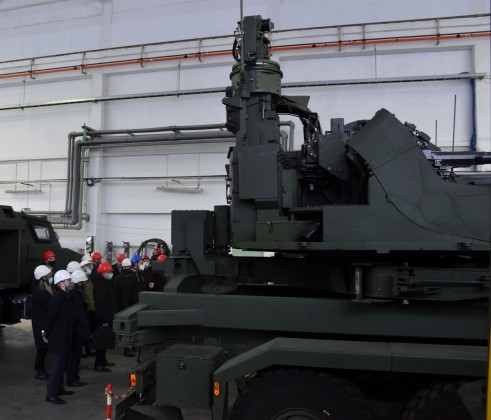 The know-how acquired will let the attendees deepen their high-tech expertise when it comes to technologies that the Polish defence industry is using to support national security. This, in turn, would be beneficial for the marketing of the domestic industry in the international arena.
Meanwhile, PCO S.A. organized a screening of a presentation of the company's offer for the future Defence Attaches. The guests also had a chance to get a closer look at the selected products of the company, including PNL-3M aviation NVG system, MU-3ADM NVG, PNL-2AD SOKÓŁ NVG, Miniaturized MU-3M "Koliber" Universal Monocular, NPL-1T Night Vision Binoculars, NPL-1M Bromine Night Vision Binoculars, DCM-1 "SZAFIR" Daytime Modular Sight, and SCT "RUBIN" Thermal-Imaging Sight.