Dozen of Russian Su-25 Attack Aircraft Passed Through Iran to Syria
Baza SpaceX w centrum kosmicznym Kennedy'ego na Florydzie. Fot. NASA / nasa.gov
12 Su-25SM attack aircraft, accompanied by three Il-76 airlifters have arrived at the Khmeimim airbase, flying from Russia. The aforesaid strike package constitutes a complementary element, which, under the table, has been deployed to Syria, as opposed to the withdrawal of the Admiral Kuznetsov Aircraft Cruiser group, which has been commented quite vividly in the media.
The Russian squadron has reached the Khmeimim base in the province of Latakia on 10th January 2017, just a few days after it was officially announced that Kuznetsov aircraft carrier would return home. This is, thus, another "silent" complementation of the Russian detachment, following a major withdrawal and reduction of the Russian presence in Syria.
Combat aircraft have flown to Syria in three groups, with four Su-25SMs and a single Il-76 airlifter in each of the groups. As it was also announced by Babak Taghvaee, expert of the Shepherds Media agency living in Malta, the Russian jets made a stop-over at the Iranian base of Hamadan, with an intention of refuelling the aircraft.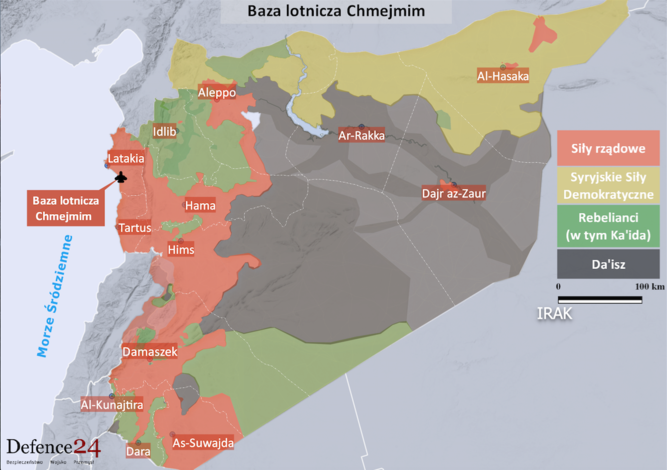 12 Su-25SM jets deployed to Syria are a sign, suggesting that the Russians are not willing to limit the number of sorties flown in Syria – the aircraft activities are going to be even increased. Meanwhile, selection of the Frogfoot suggests that Russian air component in Syria may be tasked with CAS and air-strike missions, within the said theatre.
Su-25 jets have been designed as a CAS and ground attack platform operated in the area directly adjacent to the battlefield. Frogfoot (NATO reporting codename for the Su-25) is slow, but heavily armed and protected by significant armour. These aircraft are better suited for CAS missions than the Su-24M and Su-34 jets based in Khmeimim, which are much more sensitive to the enemy fire, at the same time having much more longer range and higher operational ceiling, when compared to the Su-25. Thanks to the above, the aircraft as such are well suited for bombing the targets behind the enemy lines, however, flying well above the effective range of the enemy's anti-aircraft systems.