Italy Selects PIAP Gryf Robots
In late September this year, PIAP Industrial Research Institute for Automation and Measurements has delivered its PIAP Gryf robots to the Italian government. It is yet another delivery of the Polish Robots to Italy.
This time, the Italians decided to procure the larger PIAP Gryf bomb disposal robot. It is the best known, and most proven of the medium-sized PIAP robots, that is already being operated by armed forces around the world, in South Korea, Indonesia, Nigeria, Senegal, and Romania.
The Italian contract is yet another export success for Łukasiewicz - PIAP. One shall recall that the Institute has delivered PIAP TRM thrown robots to Israel, and another batch of PIAP Gryf robots to Indonesia.
The PIAP Gryf bomb disposal robot is tailored to carry out hazardous materials neutralization tasks, explosive ordnance disposal included. It weighs 48 kilograms. The robot can be employed to safely identify, pick up and transport suspicious objects, to the location where they could be safely neutralized. In extreme scenarios, the neutralization could take place in locations where the hazardous materials are discovered - in circumstances as such, the robot's accessories can be used.
The hybrid drive system makes it possible for the robot to move efficiently on any surface, in rough terrain, and in buildings (moving up and down the staircases). The robot's wheels can be removed which further reduces its size, and thereby makes it possible to carry out operations in narrow spaces - inside an airliner for instance.
The robot has been equipped with IR cameras for day/night use, a Hi-res camera with a 33x optical zoom, and a gripper camera that makes it far easier to pick up hazardous materials.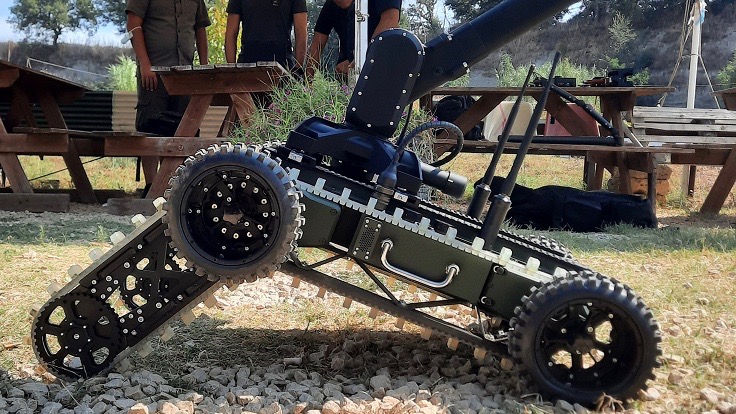 The robot is controlled via a modern, light control panel that, thanks to a brand new design, allows for intuitive joystick operation in all degrees of freedom of the manipulator's arm. The robot's movement can also be quite fluid. The large touchscreen makes it possible to inspect suspicious cargo, luggage, or IEDs, at a safe distance.
Recoiling disrupter mount is a new element of the PIAP Gryf system. The system was tested at an Italian Police range, near Rome. The specially designed disrupter mount springs absorb the recoil well, thus the robot did well during the recent tests.