TAI On The Offensive. ATAK Helicopter Will Make Its Appearance in Radom, Warsaw and Kielce
Fot. domena publiczna / pixabay.com
T129 ATAK attack helicopter, which is offered by the Turkish Aerospace Industries for the Polish Armed Forces, is going to be showcased in Poland during a "Roadshow" event organized by the manufacturer. The demonstrations are scheduled to begin during the Radom Air Show, during the Kielce MSPO fair and on the Warsaw Bemowo airfield.
The series of demonstrations of the T129 rotorcraft is going to start with a presentation during the Radom Air Show event on 22nd and 23rd August. The helicopter is going to perform air displays which are planned to happen at 3:20 PM, on both days of the Air Show. Turkish Aerospace Industries is also willing to present the information pertaining the helicopter at the TAI booth, within the area of the Air Show.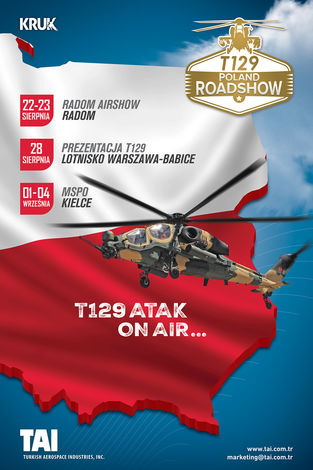 On 28th August, another display is scheduled to happen at the Warszawa-Balice airfield. The presentation above would be addressed at the Polish and Turkish officials, representatives of the industry and the media - it is going to be a closed meeting. The demonstration would include a flying display.
"T129 ATAK Poland Roadshow" is going to end with presentation of the helicopter during the MSPO 2015 Kielce defence expo. The event is planned to happen between 1st and 4th September this year. T129 is going to be a part of the static display at the Kielce event.
T129 ATAK helicopter is offered by TAI within the scope of the Polish Kruk (Raven) programme, the aim of which is to acquire a new type of attack helicopters. Until now, the company finalized delivery of the first lot of 9 basic variant helicopters for the Turkish armed forces. Meanwhile, during the Paris Air Show 2015 event the rotorcraft was presented in its B version which is tailored to carry guided armament.
READ MORE: Paris Air Show 2015: Turkish ATAK Helicopter For Poland
The Kruk programme acquisition is going to make it possible to replace the Post-Soviet Mi-24 helicopters that are currently used by the Polish Army. According to the available information, procurement of the new rotorcraft is going to start at the end of the present decade. Polish MoD's Secretary of State, Czesław Mroczek informed, in April this year, that the decision pertaining acquisition of the new helicopter is going to be made within "a couple of months".