Tarnów-made Machine Guns for Helicopters
ZM Tarnów company offers a family of .50-cal. guns designed to be installed on combat and close support helicopters. The products include a remote control .50-cal. machine gun turret (WKM-B machine gun - ZSW-12,7 turret), multiple barrel machine gun (WLKM) and LZS-12,7 gun pod housing the .50-cal. WKM-B machine gun.
ZM Tarnów recently submitted a proposal in the technical dialogue concerning the upgrade of the W-3 helicopters, so that they could provide relevant support on the battlefield. The company had previously developed and implemented a remote control gun station dedicated, among other platforms, for helicopters of the type. ZSW-12,7 turrets mentioned here are integrated with the W-3PL Głuszec rotary-wing aircraft, allowing them to attack stationary and moving targets not placed on course the helicopter assumes.
ZSW-12,7 turret is fitted with a .50-cal. WKM-B machine gun tailored to NATO standard ammunition. The system may act against targets at distances of up to 1.5-2 kilometres, within a wide range of angles.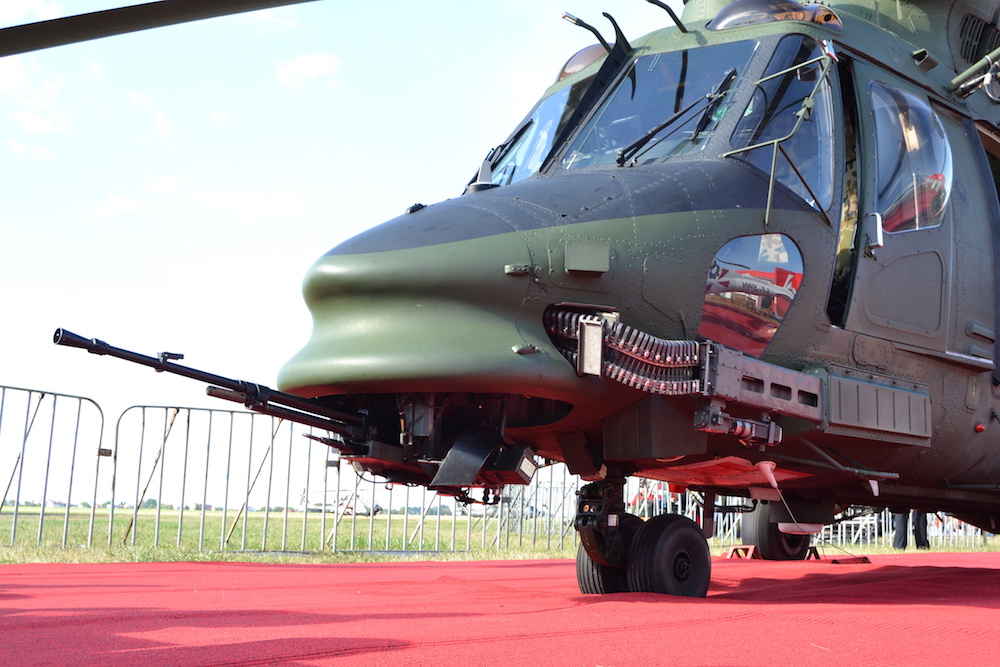 Helicopter armed with ZSW-12,7 gun may use the turret to lay down fire within the azimuth range between 75º to +75º and -50º to + 7º30'±30' elevation range. Control accuracy level is defined as 2.5 mrad. Thus the system may be used to act against airborne and ground targets, including armoured and non-armoured vehicles, technicals, light aircraft such as UAVs and helicopters, targets protected by light field covers and personnel, including the ATGM and MANPADS crews.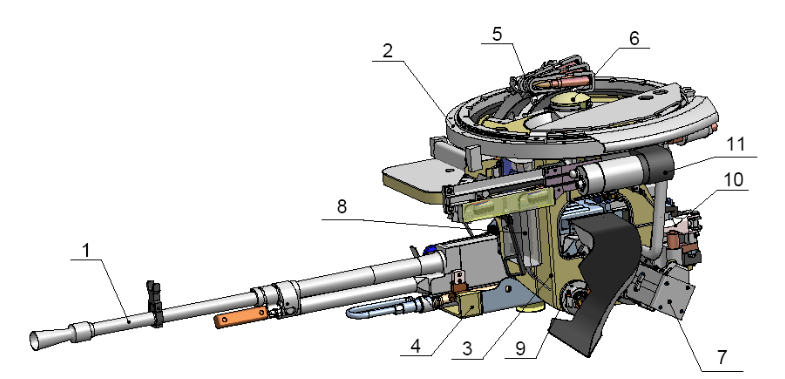 The rotating portion of the turret weighs around 110 kilograms. It works directly with the helicopter's fire control system via a MILCAN bus.
The turret's diameter is 550 mm, it is 1640 mm long and 775 mm wide.
Not only could the turret be installed on W-3, but it can also, following a proper upgrade, be integrated on the Mi-24 gunship. This would make it possible to replace the USPU-24 system that uses the hardly accessible 12.7 x 108 mm ammunition. However, the Soviet design in question offers a greater rate of fire.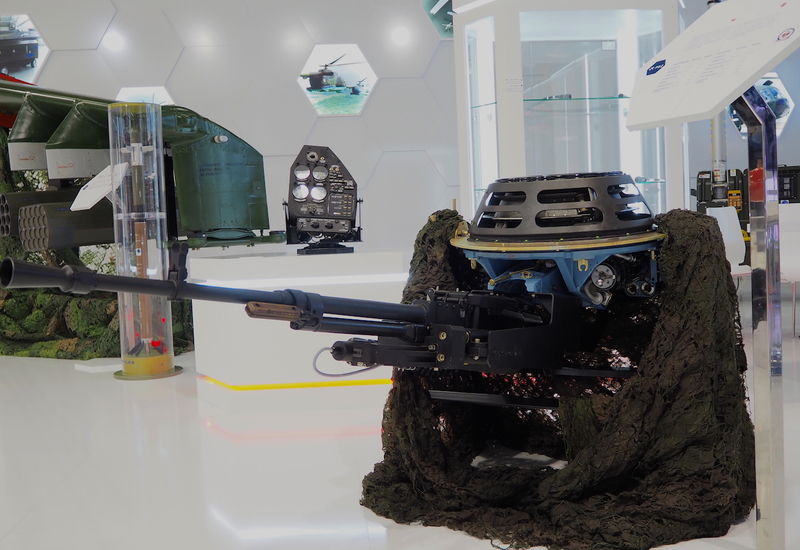 Apart from the ZSW-12,7 turret, ZMT facility also developed another two types of armament that could be used on helicopters.
.50-cal. Multi-Barrel Machine Gun (WLKM)
WLKM is a result of market analysis, within the scope of specialized and effective armament. It also results from the experience acquired when developing the 23 mm multi-barrel Gatling aircraft cannon (Śniardwy). It was to become an armament of the PZL I-22 Iryda combat trainer aircraft and of the PZL W-3WB Huzar helicopter. 
The concept related to development of a .50-cal. motorized gun emerged when during the test programme related to the Głuszec helicopter gun turret, it turned out that a need emerged to create a gun with a higher rate of fire, when compared to a single machine gun. 
.50-cal. WLKM gun can be embedded in a moving turret as fixed armament, mounted directly on the hull, it may be carried in a gun pod on the pylon, or on a mount placed in a dedicated point of the cabin (window/door).  
The gun consists of four barrels and breeches, rotor unit, chamber unit, ammunition feed, shock absorber, motor unit and control unit. Rate of fire is adjustable within the range between 2500 and 3600 rounds per minute. Maximum burst length is 200 shots while the projectile velocity is at least as high as 800 m/s (depending on the type of the ammunition used).
The weapon weighs 70 kilograms in total. It is 1442±10 mm long, with the barrel being 900 mm long on its own. The gun is 313±10 mm wide and 295±10mm high. It is powered by 28V DC power supply and maximum continuous current draw of 100 Amps. The weapon shoots the .50 BMG round and ammunition is supplied in a form of the M9 ammunition belt. The ammunition belt used in the ZSW-12,7 turret makes it possible to separate the round which simplifies the feeding system. Maximum range is up to 2200 metres, while the gun's lifetime equals minimum 10000 shots fired. 
Furthermore, the gun may be housed in a gun-pod or placed directly on the pylon. A maritime variant has also been developed for being mounted on a dedicated gun station.
Aviation Gun Pod
LZS-12,7 (Lotniczy Zasobnik Strzelecki - Aviation Gun Pod) consists of an integrated container housing a .50-cal. NSW or WKM-Bm machine gun, ammunition box (at least 250 rounds) and the required auxiliary hardware. The system is tailored for being carried on the underwing pylons of the aircraft and helicopters, in a fixed position. It is also a system of multiple use, with remotely controlled gun hardware. The pod features a fully automated gun control unit, operated from the cockpit of the carrier aircraft. 
The pod, alongside the gun and the ammunition box, includes a cradle, with adjustment and mount, ammunition belt guide, belt elements and brass extractor system, pneumatic system, safety switch, automation assembly, housing and a special purpose supporting structure.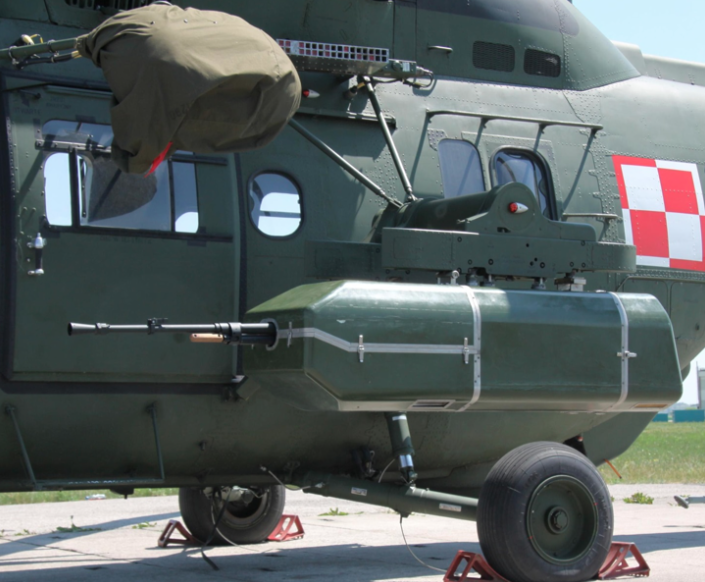 The pod weighs 194 kilograms and has the following (Length, width and height) dimensions: 2510×472×530 mm. The gun is pneumatically reloaded (minimum reloading pressure: 3.5 MPa) with 27V power-supply voltage required. The belt elements and brass are extracted outside, when the gun is fired. Recoil force impact on the aircraft structure equals up to 160 daN. There is an option available to adjust the gun position vertically: -0,5° to +0,5°; and horizontally: 1°40' to +0,5°; inside of the pod.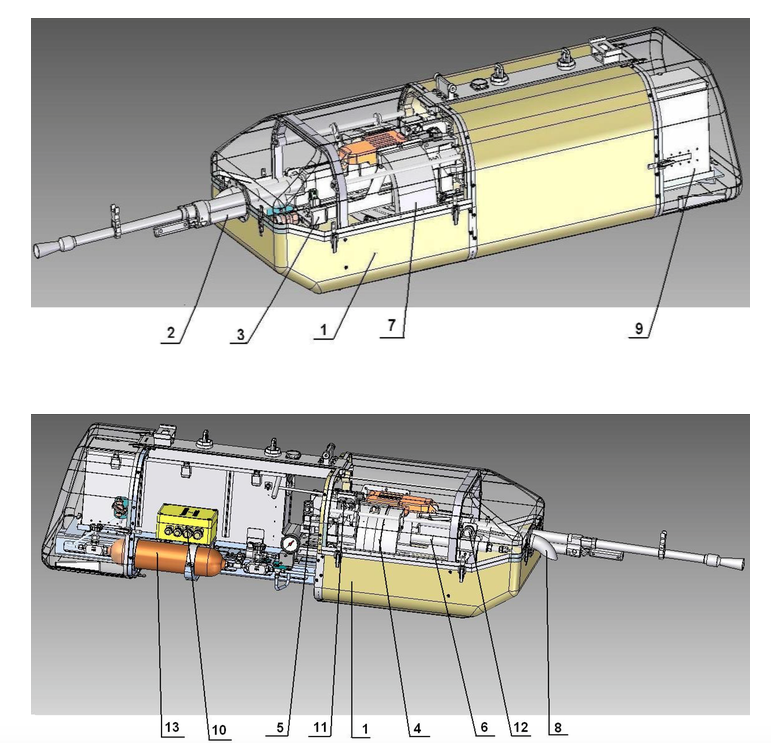 ZMT developed technical documentation for an identical pod fitted with the NSW gun (Soviet/Russian 12.7x108 round). An order concerning such variant has already been placed by a foreign customer. The pod itself may also be used as a training tool for the helicopter crews learning how to use guns against a variety of threats. 
Conditions of Using Guns on Helicopters
Placing a gun on any aircraft, including helicopters, imposes definitive limitations when it comes to the weapon's size and weight. It also forces one to apply dedicated design solutions. On the other hand, the environment in which armament as such is placed requires it to be highly effective and reliable in varying temperatures, pressure and air density. The designers also need to take presence of dust, water, snow and ice into account, along with the limited lubrication ability in some peculiar cases.
One needs to remember that fixed guns, initially, had limitations imposed on them, resulting from being fired straight into the forward direction only. The accuracy was worse than the one achieved in case of the guns mounted on the side stations. This was amplified by the difficulty one experienced in precisely positioning the helicopter, maintaining the proper angle, vibration and use of simplified aiming systems.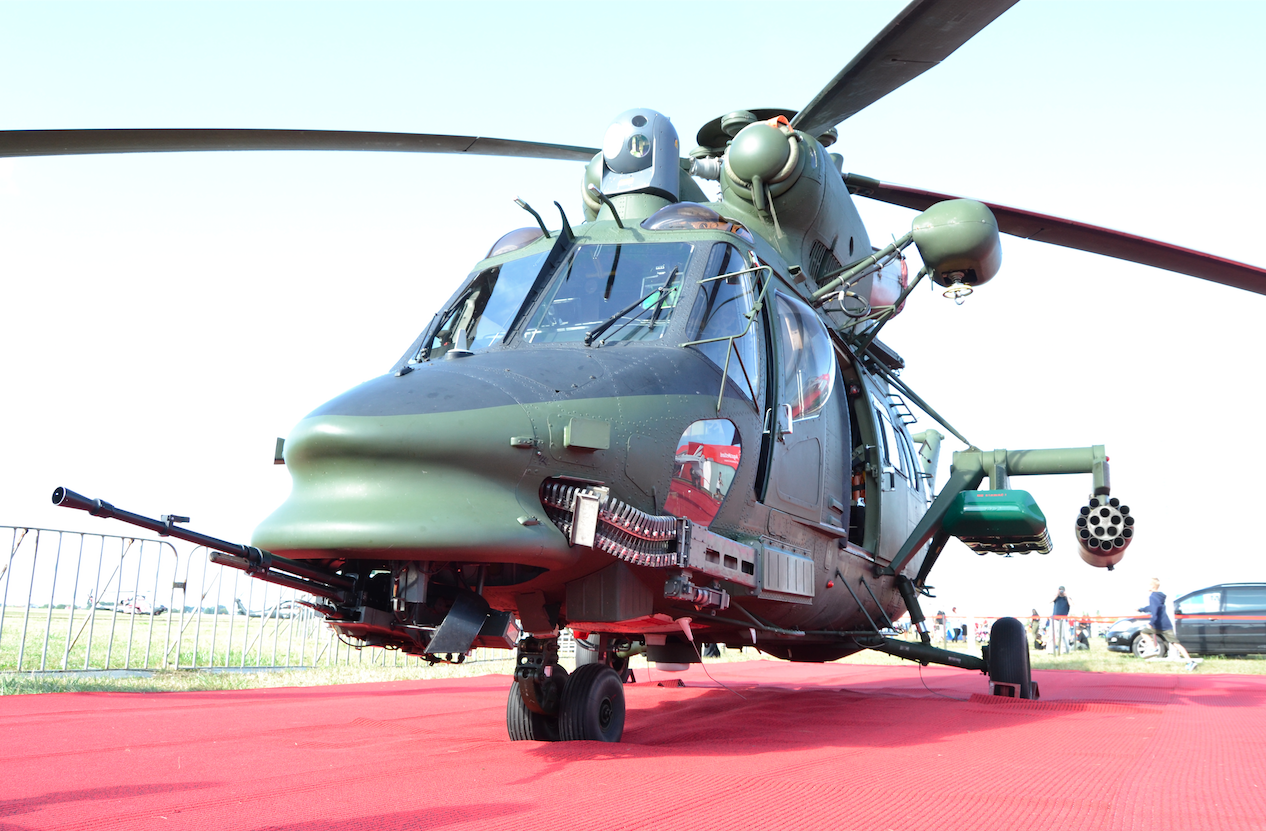 Helicopters are also more prone to any disruption that may be introduced by the weapons, when compared to fixed-wing aircraft. Thus, the armament destined to be used on the helicopters must be designed in a manner that diminishes the gun's impact on the carrier aircraft when the gun is fired, and be tailored to its limited ability.  
Work on a multi-barrel, multi-chamber Gatling gun for aircraft application was seen as a breakthrough, when it comes to the aircraft armament. It began towards the late 1940s. As a result, T171E3 20x102 mm gun was created, that later became known as M61A1 Vulcan. It gave a spark to develop a whole family of Gatling guns within a full spectrum of calibres and with varied number of barrels (three to seven). 7.62 mm GAU-2/A Aircraft Machine Gun/M134 Minigun was developed there, along with the 12.7 mm GECAL 50 (GAU-19/B) weapon system.  
Aviation-dedicated Gatling guns provide the user with a high rate of fire, even though this is often paid for in system's weight, especially when it comes to the quantity of the carried rounds and the need to provide proper power supply for a solution as such. Selecting a proper caliber for armament as such depends on the ratio between the firepower and altitude/range and weight and recoil. 
Helicopters commonly utilize gun turrets with electric or hydraulic drives, fitted with a single cannon or one/two machine guns or multiple barrel systems. These are placed at the nose or under the fuselage to extend the field that may be covered with fire (but also taking into account the feed limitations), and to limit the impact that gases may have on optronic sensors or other sensitive components of the helicopter.  The guns are controlled directly by the crew (e.g. via a helmet-mounted sight), while effectiveness is increased through use of modern ammunition and optronic systems when the targets are detected and when the gun is fired.  
On the other hand, gun pods are somewhat more relevant when used on modern helicopters. This is because they are usually modular in design and universal in use. The helicopters themselves are more agile and easier to control. Furthermore, modern military aircraft are being equipped with advanced sights that increase the effectiveness of the ordnance they carry. Limited freedom of movement is also available in case of some pod designs, which diminishes the need to tilt the whole airframe at all times. Solutions as such are used in the USA and in other NATO member states. Gun pods are cheaper to use and manufacture and less complex in design than gun turrets. The latter ones are dedicated, not universal, but they also are more effective, when used against a wide array of threats.
The article has been prepared on the basis of the press materials provided by the ZM Tarnów company