PIAP Robots Showcased in Indonesia
PIAP Industrial Research Institute for Automation and Measurements has presented its PIAP Fenix® light reconnaissance robot as well as the TRM® Tactical Thrown Robot during the IndoDefence 2018 event organized in Jakarta. According to PIAP, the products were being showcased on a stand of a local partner company. Identical method of presentation was employed with regards to PIAP's products back in 2016 and 2014, during the Indonesian trade show. 
During the IndoDefence 2018 event PIAP's booth was visited by official delegations sent from Poland and Malaysia. On the second day of the exhibition delegates of the Polish MoD, headed by Director Mateusz Sarosiek of the MoD's Arms Policy Department, got acquainted with the offer of the Institute. The Ministerial representative was accompanied by the Defense, Military, Naval and Aviation Attache assigned to the Polish Embassy in Jakarta - Col. Leszek Słomka.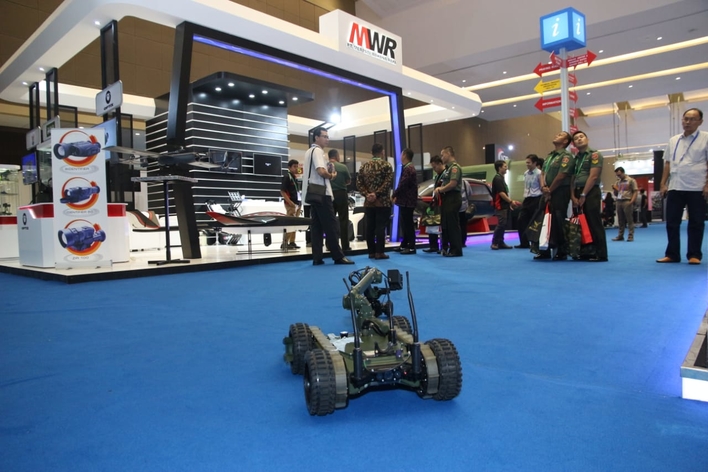 According to the Institute, PIAP's presence in Indonesia shall be viewed as a confirmation of the importance attached to this country and to South-East Asia in general, by the Warsaw-based manufacturer. PIAP Industrial Research Institute for Automation and Measurements has been acting as a supplier of mobile IED/bomb disposal robots for the Indonesian military since 2013. Another delivery took place in 2017.
PIAP Gryf mobile robot has already become a reputable product. It has been received by the land forces of Indonesia. PIAP Fenix® light reconnaissance robotic platform also enjoyed a lot of interest during the event in Asia. It has already been proven in the Polish military. The manufacturer places a great emphasis on the fact that most of the IndoDefence 2018 visitors are the end users, serving in the Indonesian uniformed services.