MSPO 2017: New Generation of Robots Presented by the Polish Industrial Research Institute for Automation and Measurements
Yet again, during the MSPO event, the Industrial Research Institute for Automation and Measurements (PIAP) has presented a complete family of its robots that, thanks to the design solutions applied, offer capabilities and capacity of being operated in high-threat environments, or in places where the human would face direct hazard, and that cannot be directly entered.
The robots, operated by numerous Armed Forces around the world, carry out a wide array of tasks which is being, year by year, expanded. At the moment the robots are being commonly used by bomb disposal units, in case of which support is provided by the robotic platform in inspection and reconnaissance, bomb-disposal or patrol roles. The manipulators or grippers used make it possible to neutralize explosive devices, move or carry dangerous objects, or inspect these objects with an X-ray system.
Above all, the robots support the soldiers in high-threat environments. The robot may be used to check the given area within the scope of presence of IEDs or other threats, supporting the uniformed services in the process of clearing/searching buildings, illegal narcotics manufacturing facilities etc. Originally, this was the primary purpose of such systems - enhancing the level of safety for the personnel and allowing for carrying out operations in places that remain hardly accessible or unknown. Now, it is much more common to think of those devices as support systems (transportation, provision of supplies, MEDEVAC), or even as combat assets fitted with armament.
These land based unmanned platforms also play a significant role in crisis management scenarios, following natural catastrophes, incidents, floods, accidents and fires, and in case of terrorist threats. It is commonly assumed that UGVs may be used as one of the elements of the combat ensembles in the future, enhancing their potential and capacities beyond what's currently available.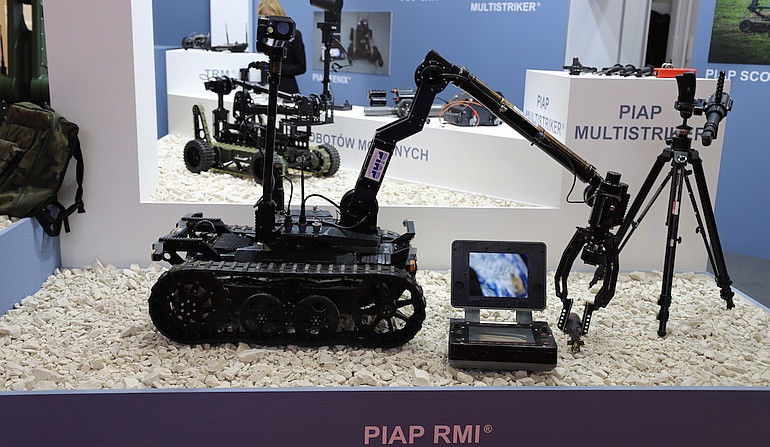 The benefits are also going to be brought by mass use of such systems, as costs of maintenance, operational use and provision of proper potential would go down (savings emerging on the grounds of diminished storing, training, securing, costs and operational needs – scale effect), and, above all, protection of lives and healths of the soldiers would be provided, some of the tasks of whom may be taken over by the new hardware. Moreover, the robots will be tailored to greater extent to cooperate/be equipped with new weapons or support systems. It would also be easier to adapt them to the dynamically evolving battlefield and protect such systems from a variety of threats.
The Warsaw-based Industrial Research Institute for Automation and Measurements is a leading entity designing and manufacturing robots for carrying out specific tasks, typical for the uniformed services. A number of designs has been developed, with subsequent evolution and addition of new capabilities to their open architecture, which is a factor beneficial for carrying out further modernization. Cooperation established by the Industrial Research Institute for Automation and Measurements with a wide group of customers makes the new products more and more mature and easy to use. The robots often conform with strict requirements defined by the Ordering Party, also being easily adaptable to fulfil new roles.
The modern solutions offered, besides usage of modern grippers, manipulators, GPS and INS sensors or visual control systems, may also feature hybrid drives, ultrasound localizers, X-ray scanners, a variety of sensors, scissors or disrupters. The accessory base is being, in an ongoing manner, developed, expanded and modified.
The Industrial Research Institute for Automation and Measurements also works together with a number of other research and industrial entities, tailoring the robots for specific purposes, such as autonomous mine detection and destruction. The Institute also acts as an organizer or co-organizer of seminars and conferences, during which the current state and prospects of development for mobile robotic systems and unmanned solutions is being discussed. The analysis of current and future threats and methods that could be used to employ robots for the purpose of acting against them allows for development of the Institute and constant expansion of the tactical and technical abilities ascribable to the offered products.
The Industrial Research Institute for Automation and Measurements provides training for its customers, within the scope of operations and tactics of use concerning the robotized platforms. The Institute has begun its robot-related efforts with development of the SR-10/11 INSPECTOR platform, destined to defuse and neutralize dangerous packages. SMR-1000 EXPERT is a smaller counterpart of the former solution, designed specifically for operation in tough conditions. SCOUT reconnaissance robot is highly mobile and maneuverable in a variety of terrain conditions. It is lightweight and small, it may, optionally, be controlled via an optical fibre, preventing the potential electromagnetic interference. EXPLORER is an observation system for inspection of hardly accessible areas.
In the uniformed or monitoring services it may be used to inspect car chassis, ventilation systems, sewers and so on. It features a remotely controlled cameras package (including an endoscope), display module, extra equipment and a telescopic beam, the operational length of which ranges from 1 to 1.85 metre. It is also possible to use a straight beam which may be up to 4.8 metres long, or angle-adjustable beams, with a length of up to 2.8 metres.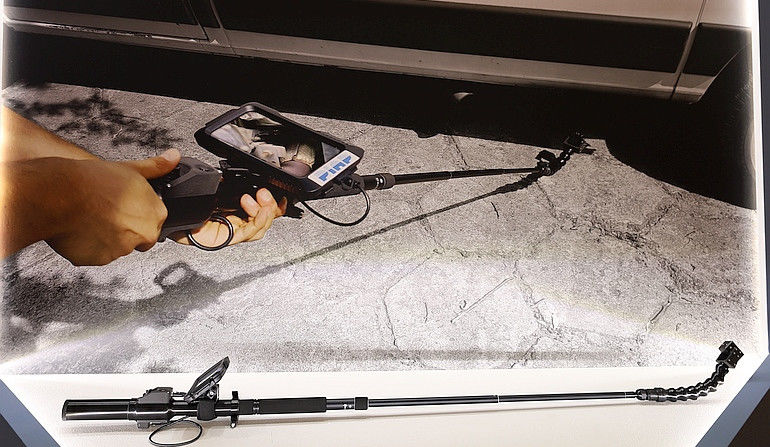 IBIS is a combat/bomb-disposal robot. It may be fitted with a manipulator featuring a gripper, with reach of 3 metres and rapid movement capacity. The fluid control of the drives also allows for attaining a high degree of precision when it comes to the operations carried out. The manipulator in a folded setting allows for lifting up packages weighing up to 50 kilograms, with 30 kilograms load limit imposed when the arm is deployed. The robot, weighing more than 320 kilograms, may attain top speed of up to 10 kph. The remote control is ensured thanks to radio communications at distances of up to 1000 metres in open areas, with the transmission being secure thanks to special encoding.
The range may be further extended through usage of special-purpose external antennas. Alongside manipulators, the vehicle may also feature an X-ray device, sensors for detection of explosives, chemical or radioactive contamination, or bomb disrupters. A special holder may be used to install a shotgun with a holographic sight on the robot, coupled with a camera.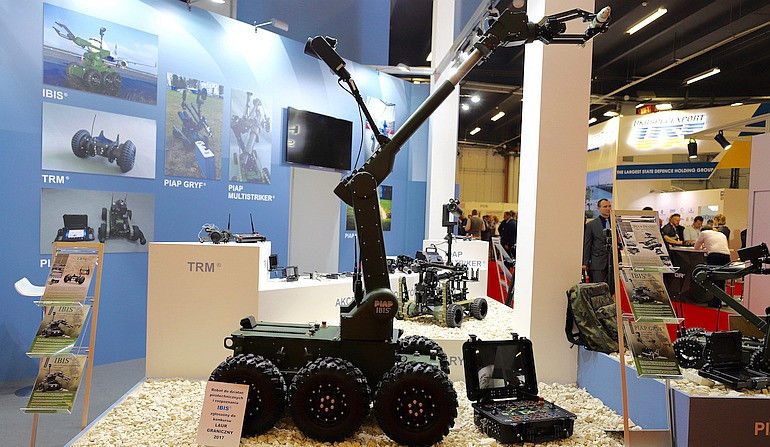 Tactical Thrown Robot (TRM) is a lightweight system the purpose of which is to carry out surveillance and record sound and imagery, carry flashbangs or explosives, or means that would deliver more light in the operational area. Thanks to a CANBUS connector, the robot may also carry motion or contamination sensors. The modified TRM features a new body, stabilizer (with a special rubber wheel) and a processor that controls the electronic suite embedded within the system. The motors and controllers, as well as a user-friendly operator's panel have also been redesigned.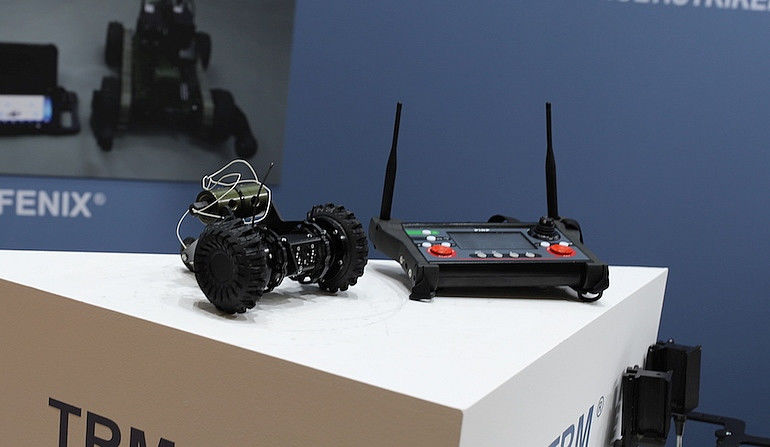 GRYF tracked/wheeled robot is a derivative of the concept employed in case of the SCOUT fast reconnaissance platform, offering a greater payload capacity (5 to 15 kilograms) and greater range within which the manipulator may be operated (with six degrees of freedom, greater range of movement and an option of clamping down the gripper). The robot consists of a mobile platform, hybrid drivetrain, front tracks, manipulator and gripper, while its modular design allows for rapid and easy replacement of the equipment kit used on the system. The latter feature has been utilized for the purpose of tailoring the said model to the requirements defined by the South Korean Armed Forces.
Manual extension of the top arm has been replaced with an electric system, the platform also features a toolbank now (windowpane breaker, screwdriver, cable cutter). It has been fitted with a twin-holder for disrupters, and the new motors made it possible for the platform to attain top speeds of up to 10 kph. The drivetrain has also been modified through application of a mechanical gearbox.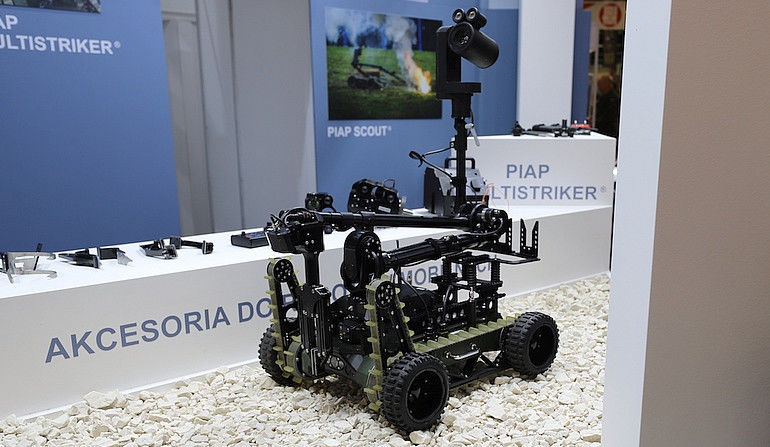 FENIX is a compact reconnaissance robot with extended operational endurance and higher speeds of operation (the platform may conduct its mission for up to 6 hours). The system has been designed for the purpose of carrying out surveillance, monitoring, carrying and neutralizing dangerous packages and in order to transport the sabotage assets. The RMI system supports or replaces the human personnel in the process of carrying out dangerous operations. The accessories used in case of this system allow for detection of CRBNE threats or neutralization of IED/UXO. The specially designed multifunctional pyrotechnical device supports the IED/operator teams where a requirement emerges to have a lot of energy at one's disposal to carry out the assigned task in a short period of time. The device uses the energy of a piston powered by powder. It is used to punch holes, destroy hinges, cut through metal bars etc.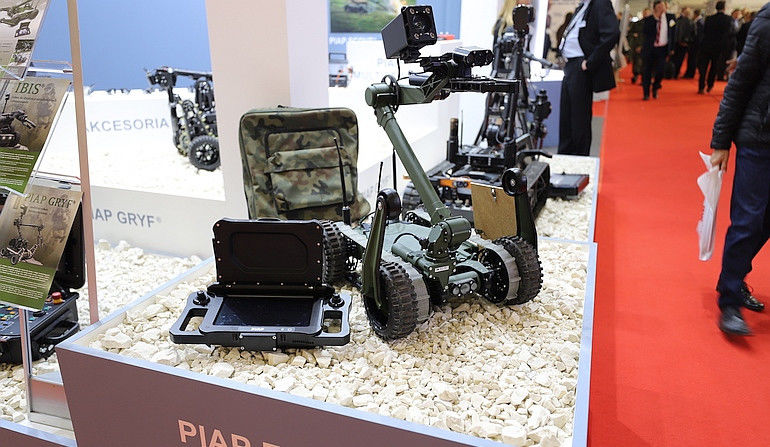 Among the CBRNE accessories offered by PIAP, one may distinguish a ground sampler, R-Sensor (EKO-C), C-Sensor (LCD), modular liquid sampler, environment sensor, weather station, SPME Adsorber or Bio-Vortex. They are used for sampling and measurement purposes.
Besides the specialized robots, PIAP also offers a bomb-disposal ambulance, carrying the robot and equipment required to counter a variety of threats, emerging on the grounds of the mission profile. The vehicle itself provides energy-autonomous base for the robot, and a place to rest for its operators. Moreover, it allows for creation of post-action reviews on site. Mobile Robots' Operators Centre, on the other hand, offers wider capabilities that allow for support of command process and execution of the operation. Three independent operator stations, commander/radioman station and a wide array of communications and surveillance systems make this platform an effective tool for IED teams.
Numerous accessories associated with the specific robots may be used on other platforms belonging to the PIAP robots family. Depending on the customer requirements, the accessories may be used within the existing solutions, or to create entirely new systems.