Modern Mine-Laying Systems for the Polish Army. Baobab-K Platform
The Armament Inspectorate has initiated a procedure, the goal of which is to finalize a research and development study related to the Baobab-K scattered mine-laying system. As a result of the above, the Polish Army is going to receive vehicles that offer a capability to rapidly create mine barriers.
The Armament Inspectorate has published an announcement referring to a procedure of ordering of a service, coming in a form of implementation of the R&D phase, pertaining to a Scattered Mine-Laying Vehicle (Pojazd Minowania Narzutowego – PMN), known under the name of Baobab-K. Implementation of the design and development phase has been defined as the subject of the order, with a particular emphasis placed on creation of a PMN's prototype along with the relevant technical documentation. The study itself is to be implemented in stages, while completion of the individual stages shall be confirmed with relevant tests and research, confirming the fact that the vehicle meets the requirements defined by the Army.
The completion of the task may be assigned to a single Contractor or to a Consortium, whereas no variant-offers will be accepted. Moreover, it is assumed that up to three potential contractors may place their offers within the procedure.
Read More: "New Beginning" for the Baobab Scattered Mine Laying Platform
The offer submission deadline is defined as 25th April 2017, and price criterion (with the lowest price being the best) will have a decisive value, when it comes to selection of the offer.
The platform is going to be used for the purpose of carrying out scattered mine laying, and creating mine fields with depth of at least 180 meters and density of at least 0.15-1.2 mines per linear meter. The vehicle is expected to be based on an 8×8 platform, with the cabin being armoured in line with STANAG 4569 level 1 standard. The PMN system is going to feature a platform with 6 electrically controlled launchers (automatic or semi-automatic mine laying, level 1 of ballistic protection), with automatic hydraulic support extension system, allowing the operator to automatically change the vehicle status from transport to combat one, and vice-versa.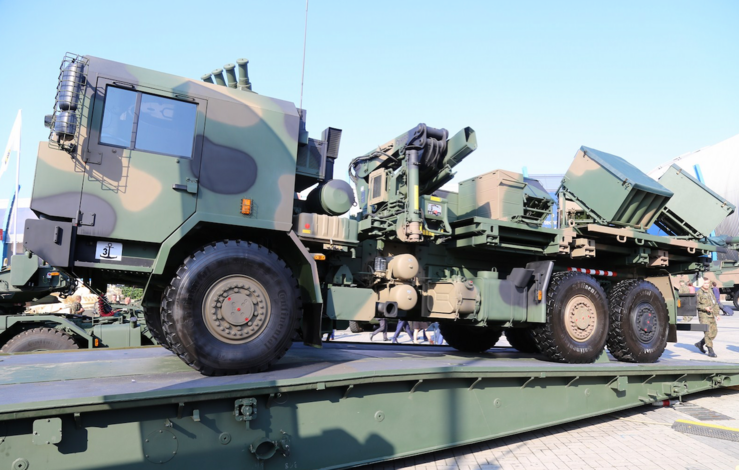 The platform, according to the aforesaid requirements, shall "be fitted with an ICT system that would make it possible to control the mine-laying process in manual and automatic mode, with visualization of the minefield on a digital map, with an option of automatic reporting (via the UHF) radio, referring to the created minefield and its parameters". Moreover, the vehicle shall also be fitted with a crane, making it possible to install and remove the mine launchers. Finally, the mine-layer should also feature a remote control armament module with a .50 cal. WKM-B and smoke grenade launchers.