Continous Development of Polish Automated C2 Systems for Military Operations
TELDAT company from Bydgoszcz has Undoubted achievements in this area. The company does not cease in the development of its flagship product – which is a  large set of integrated solutions in the scope of military IT, called Network Centric Data Communication Platform JASMINE. The platform was broadly presented for instance during the XXVI MSPO 2018 in Kielce. JASMINE was also verified during many important international military projects including military exercises and various tests. Its key component is C3IS JASMINE – an automated system of systems for battle management of all command echelons and military operations  including a dismounted soldier. System has recently been awarded the prestigious DEFENDER award (this type of distinction is not held by any other, particularly national, solution in this field) - as writes Łukasz Apiecionek, Ph.D., Director of Innovative Information Technologies Department in TELDAT, assistant professor and head of the Network Systems Laboratory at the IT Department of the Institute of Technique of the Kazimierz Wielki University in Bydgoszcz.
Recently distinguished C3IS JASMINE is also the only Polish and in many areas a unique large collection of unified / fully consistent military software solutions. This system of systems includes, among others the following automated combat management systems (or actions management in crisis situations), dedicated to specific echelons of command and operations of the army or crisis management services (which were also largely presented for example during the last MSPO):
HMS C3IS JASMINE – software of the Headquarters Management System designed for Corps, Division, Brigade & Regiment. This essential solution of the C3IS JASMINE is implemented and successfully used extensively in the Polish Armed Forces. It has one of the largest in the alliance (and only one in the country) confirmed and documented abilities, to include: effectively command entire military groups (including current digital imaging of the operational situation) regardless of geographic dislocation of their individual structures (e.g. command posts: divisions, brigades and regiments), integration with other national and allied systems and thus creating COP (Common Operational Picture), ability to operate in a distributed ICT environment and in mobile conditions using radio communication means;
BMS C3IS JASMINE – software of the Battlefield Management System for Battalion, Company, Platoon & Section, which – what is very important – is also unified/fully consistent, among others with the above-mentioned HMS C3IS JASMINE (already exploited on a large scale in the Polish Armed Forces), containing most of the essential BMS features;
DSS C3IS JASMINE – software of Dismounted Soldier System, also fully integrated with all software components discussed in this publication;
JFSS C3IS JASMINE – software/essential component of the Joint Fires Support System, including JTAC, also as the only Polish solution providing inter alia support for the implementation of digitally assisted tasks of direct air support of troops (DACAS – Digitally Aided Close Air Support). It is also fully consistent and ready to cooperate with all presented solutions and other systems having implemented appropriate communication standards;
CMS C3IS JASMINE – software/also the most important component of the Crisis Management System (CMS JASMINE) for public administration units and the Ministry of National Defense, also ready to cooperate with mentioned above platforms, etc.
The C3IS JASMINE discussed in this article also has – as the only Polish solution and one of the few such a platforms of this type in the world – the highest number of implemented interoperability standards (e.g.: MIP DEM B2/3/3.1/4, NFFI, ADatP-3, ADatP-37, Link 16, Link 11B, APP-6A/B/C, NVG, OTH-GOLD, VMF, WMS and HLA). This guarantees effective integration of other national and allied C2 class systems, reconnaissance, targeting of combat measures (including Air Defense) as well as training and simulation of combat operations. As the only Polish product proved during multiple military exercises that it has the ability to:
effective commanding of whole formations (including current digital imaging of operational situation) on all their positions and command points regardless of their dislocation. This was done recently during the ANAKONDA 2016 and 2018 exercises;
operations in deployable conditions using radio means, implementation of conversions between multiple message formats, through their recording to a unified model of JC3IEDM databases and performance of requirements for Combat IDentification Servers – STANAG 2129 etc. This has been positively verified in an international environment, to include many editions of BOLD QUEST exercises (in the USA and Europe with the participation of numerous military allied components and the use of an extremely large number of combat assets, including the latest generation of aircraft);
effective cooperation and activities in multinational structures, for example during the last editions of BOLD QUEST, ALLIED SPIRIT VIII, COMBINED RESOLVE X and SABER STRIKE exercises.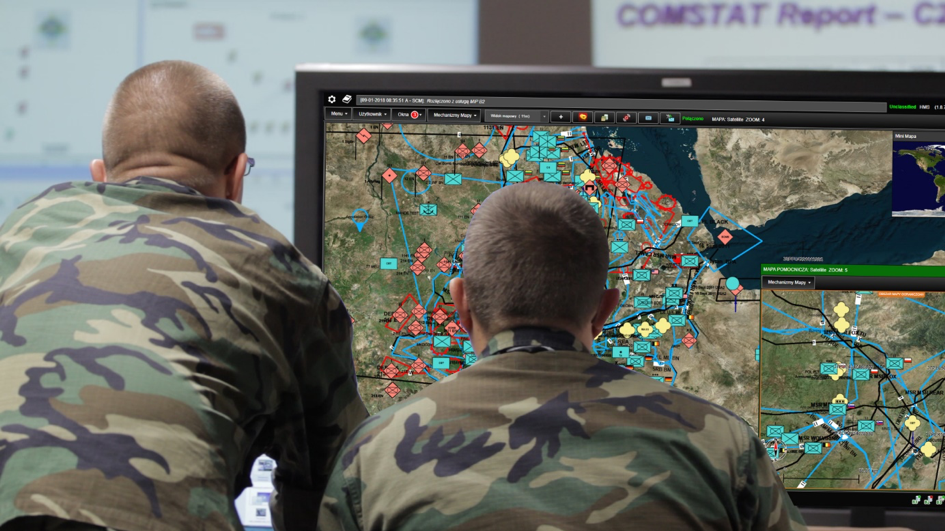 Another important and unique asset of the C3IS JASMINE, including its mentioned above subsystems, is that in the vast majority of them they are known to Polish soldiers (especially the HMS C3IS JASMINE), they have never failed them and for years they bring them splendor in the international environment, just like the other JASMINE platform products. For many years, this comprehensive solution has been dynamically developed based on the conclusions from its also extremely broad (quantitative, range and time) use during major foreign and domestic projects and military programs and long-term (also in many cases unique) cooperation with national and allied research and training centers, to include ASzWoj (War Studies University), WAT (Military University of Technology), NATO, US Army and Armed Forces of France and Germany. Many of them took place during live military exercises (with troops) and gave the opportunity to verify C3IS JASMINE in conditions similar to combat, which is also optimality and uniqueness in this area, especially on the national scale.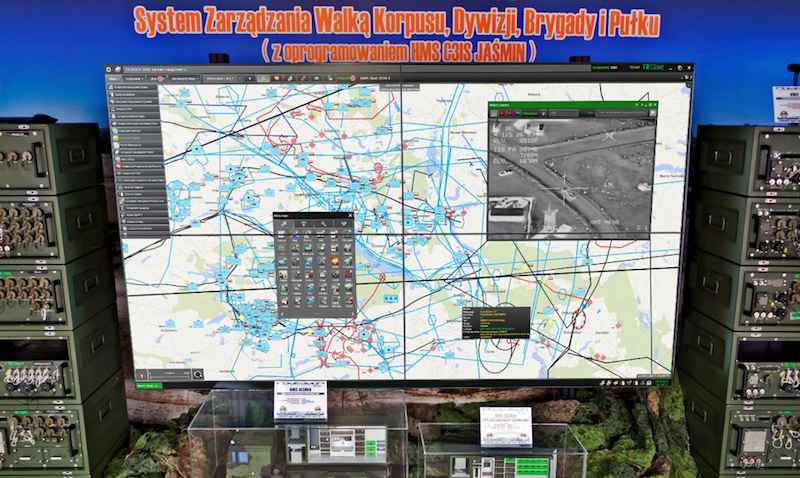 The development of this innovative, comprehensive, highly specialized and interoperable system of systems has contributed to the development of automated command systems and support for military operations, including in the allied dimension. It also allowed Poland to be placed in this field at the forefront of NATO countries, which never happened before. This was also supported by, among others: design, creation and dynamic development of C3IS JASMINE (also in the field of IT security):
in accordance with the concepts of Service-Oriented Architecture and NATO Federated Mission Networking (FMN) and having a unique, fully unified, comprehensive and universal set of services, ensuring in particular the scalability and modular structure of this product of military technology, as presented above;
through the largest, highly specialized, experienced and improved for nearly 23 years a team of Polish military IT specialists, which has unique achievements in the described field;
by verifying the scope of security carried out, e.g. by the National Center for Cryptology, especially in the years 2017-2018;
in the course of the MIP Multilateral Interoperability Program, in which it qualified to the highest level of MSLT 3 tests also as the only such Polish product and one of 7 in the NATO scale in 2013, and successfully passed these verifications. Even then, among these C3IS JASMINE systems, it was also rated as one of the best ones having the largest number of implemented functionalities.
---
Łukasz Apiecionek, Ph.D., Director of Innovative Information Technologies Department in TELDAT, assistant professor and head of the Network Systems Laboratory at the IT Department of the Institute of Technique of the Kazimierz Wielki University in Bydgoszcz