Radom Air Show 2017: WB Group Showcases a Wide Range of UAVs
Fot. Sławomir Lewandowski
WB Group has showcased a wide array of its UAV systems in Radom. These were well known and proven Warmate UCAVs, accompanied by larger Łoś and Manta UAVs.
The UAVs offered by FlyTronic and WB Electronics were presented under the joint brand of WB Group. The twin-engined FT-5 Łoś UAV was the most prominent element of the company's booth at the show. It was presented on a take-off launcher. The drone has been developed with the "Orlik" short range tactical UAV system programme pursued by the Polish Army in mind, nonetheless it may also be widely utilized by the uniformed services or for civil applications.
FT-5 is 3.1 metres long and it has a wingspan of 6.4 metres. Its maximum take-off weight is 85 kilograms. Considering the parameters above, the drone is still capable of carrying payload of up to 30 kilograms. This is a performance figure which is unachievable for any of the Polish-made UAVs. Whereas the top speed of the UAV in question is equal to 180 kilometers per hour.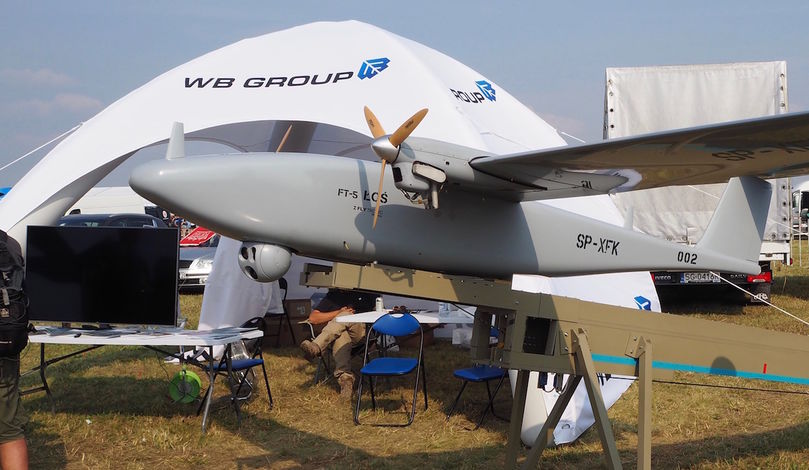 Manta UAV is also quite interesting, employing a flying wing design. The aircraft is available both in a conventional configuration, as well as in a VTOL version. The aforesaid airframe has been now tested since a few years and it acts as a research platform for numerous, interesting design solutions.
FlyEye UAV, already operated by the Polish Armed Forces, was also showcased. The said platform remains capable of flying at speeds ranging from 50 to 170 kilometres per hour, at an altitude of up to 4 kilometres, and with endurance of 3 to 4 hours. The embedded communications suite allows the system in question to be operated at distances ranging from 30 to 50 kilometres from the data transfer and control station, in real time.
Warmate was the smallest airframe showcased by the WB Group during the show. This type of aircraft has already been acquired by foreign customers, they are also being field tested in Poland and beyond. Ukraine is planning to initiate license manufacturing of the aforesaid system soon. Warmate is a small, 5 kg UAV with wingspan of 1.4 meters and 1.1 meters long. At distances of up to 10 kilometres, the system has a flight endurance of up to 30 minutes. It may be armed with three types of warhead, developed by the Polish Military Institute of Armament Technology. The warhead production is soon going to begin at the Belma facility, based in Bydgoszcz.